Kid-zones to keep them busy while you are
Calm the chaos with an open-plan kitchen and dining area featuring space for children to be entertained instead of underfoot.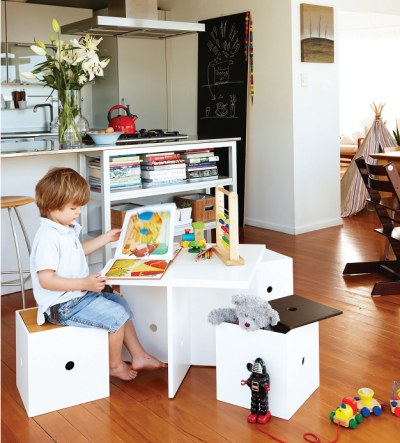 You know the expression "the dinner rush": The time of the day which brings hungry tummies, overworked brains, and tired little ones to the family gathering place in your kitchen and dining area. It's that space where everyone comes together to reconnect, reconvene, and refuel.
Unfortunately, the dinner rush is also known as "the witching hour" for a reason: Children tend to lose the plot and romp around like wild things, while flustered parents try to juggle overexcited toddlers and food preparation. The solution to corralling the madness: Create an open-plan space where children can play independently. Choose furniture that will grow with your child, and gather activities that are fun but also promote learning.
Stable seating
A stable seating base will facilitate attention to task and correct posture; that is, it will provide an effective seating solution and your little one will play twice as long with twice the intensity. This is of primary importance where children are using tools such as knives and forks, pencils and crayons, scissors etc. We like the original Stokke Tripp Trapp chair, available from Child ($399-$470, phone 09 360 8088). Not only is it height-adjustable, you can also adjust the seat base and foot rests, all key elements in achieving ergonomic success.
Child-sized furniture
For short bursts of creativity, a basic table-and-chair set will suffice. Combining aesthetics and practicality (the chairs double up as storage cubes) is the "Sit and Stow" from Meluka (www.meluka.co.nz), priced from $295 for the table and $165 for each chair. Cite's Little Elephant Stools ($195 each) are neat design pieces that are cleaner-friendly - perfect for grubby fingers!  Cite also offers an additional table option, the Porcupine Desk ($970),  which features a cubbyhole and drawer for storage and pencil holes on the table top for easy access (www.cite.co.nz).

Storage
If you aren't fortunate enough to have adequate storage space within your dining area, you'll have to create it.  Fill your cupboards with age-appropriate pencil-and-paper activities (including tools such as safety scissors), memory cards, and puzzles. Not only are these great for fine motor development, they also promote visual-motor and visual-perceptual skills (all prerequisites for handwriting and the development of  fine motor skills). For a cost-effective storage solution, check out Fiona Kate's Storage Boxes (priced from $14.95 from www.charlotteandausten.co.nz). They come in a number of sizes and colours and are a must to help sort out toys, books, puzzles, and more. Another alternative is Design Denmark's Large Cutter Box ($310 from www.designdenmark.co.nz), a stylish, aesthetically conscious grown-up option.

Kirstin Bailey is the Director and Designer of Gorgi New Zealand and is mother to three boys: Bodhi, Orlando, and Sebastian. Anna Church is Creative Stylist and Designer of Gorgi New Zealand, and is mother to daughter Molly Rose. For more information, refer to Gorgi online www.gorgi.co.nz or email info@gorgi.co.nz.

Published April 2010. Prices and stockists accurate at time of publication.

AS FEATURED IN ISSUE 9 OF OHbaby! MAGAZINE. CHECK OUT OTHER ARTICLES IN THIS ISSUE BELOW