Babu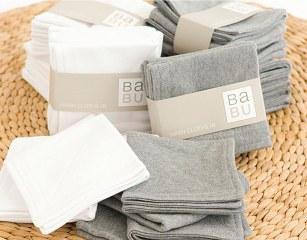 OHbaby!: Why did you start Babu?
Ali: When I had my son Jack, I couldn't find any sheets I liked that were soft and functional, so I bought some fabric and made some myself. After that, we specified some fabric and had it made for us here in New Zealand. The sheets and product range grew from there.

OHbaby!: What benefits does the business have for your family?
Ali: I can work from home or take a day off when I need to. I can get to sports
days and drop off and pick up my children from school. If I worked for someone else, I just could not be as flexible for those important little events.

OHbaby!: What was your smartest move?
Ali: Handing over the accounts! And moving some of our manufacturing to Vietnam. It is a great place to visit and the unit we have there is fantastic. The way they look after their staff would be a great lesson for some New Zealand companies.

OHbaby!: What's the biggest mistake you've made?
Ali: Which one? I think when you don't have a business background (I am a registered nurse by training), there are many pitfalls in running a business and selling internationally. The key is to try to make a mistake only once. I have made the same mistake a couple of times, just slightly adjusted, and thankfully I have learned that lesson now. The biggest one for me is learning whom you can and can't trust.
OHbaby!: What is your favourite thing about the business now?
Ali: I love getting feedback from customers who love our products.  I also get a huge kick out of the celebrity usage of Babu - we are in a lot of famous nurseries, which really makes me laugh.  I have to pinch myself on those ones!