HOTmilk
Meet Lisa Ebbing and Ange Crosbie, the women behind the glamorous HOTmilk brand of pregnancy and maternity lingerie.
When you picture maternity lingerie, what comes to mind? Uncomfortable bras in boring colours, nana knickers, and oversized T-shirts worn as nightgowns and hiked up for breastfeeding? HOTmilk founders Lisa Ebbing and Ange Crosbie are working to change the way we look at underwear for pregnant and breastfeeding women with their sassy, sexy range of lingerie in sumptuous fabrics, delicious colours, and sensuous shapes. "Our direction is to create sexy maternity lingerie that is sought out and recommended by women," they enthuse - and that certainly sums up the ethos of HOTmilk.
HOTmilk has recently received a fair bit of media attention about their steamy advertising campaigns featuring gorgeous pregnant women in lingerie. As Ange explains, "HOTmilk is about the fabulous woman inside the loving mother, and never before had there been an advertising campaign in the maternity lingerie market that pushed boundaries like ours did. It was desperately needed, and we can't forget that mothers are also women and want to feel sexy!" This terrific twosome is proof that great ideas can translate into successful business ventures. Ange, who is temporarily based in Scotland, manages the sales and manufacturing side of things, while Lisa, who lives in Tauranga, is in charge of marketing/brand and financials, as well as being mum to Aria (three-and-a-half) and Amara (nearly two), with another baby due in late July. The pair have been friends for over a decade, and it's obviously serving them well - HOTmilk lingerie is now available worldwide. Here, Lisa and Ange tell us how they balance friendship and business, what their journey has been like, and why pregnant women deserve to feel sexy, too!

OHbaby!: Where did you get the idea for HOTmilk?
Lisa: When I was pregnant with my first child, I was horrified by what was available on the market. The bras on offer were so drab. I used to think to myself, "I'm pregnant, not 80!"
Ange: Lisa had the original idea, and I came on board to bring the idea to fruition. Everyone has great ideas, but an idea doesn't become reality until you action it. With Lisa's idea, there was no need for idle thought - it was action all the way.

OHbaby!:   What did your friends say when you shared your plans?
Ange:   My family, friends and past employers have always said that I would have a business of my own at some point in my life. When Lisa and I started HOTmilk, I definitely had the support of  a loving family and wonderful friends. My sister, my father, and my mother contributed financially and thoroughly believed in what we were doing. To develop a business on the scale that we have, you must have the support of loved ones around you.
Lisa:   Everyone was fabulous, although I'm sure they all thought we'd only go so far with it and maybe not continue because it was such a difficult venture. It started off with just myself, Ange, and my husband, Roly. Now we have six staff members - and we're hiring another six!

OHbaby!: HOTmilk has been around for just over two years now. How did you get started? What were those early days like?
Lisa: We spent about six months playing around with the idea and prototyping garments. To be honest, in the beginning, I was unsure of HOTmilk's potential even thought I knew it was a great idea and there was a definite need for what we were trying to do. Once we'd sorted out the prototypes of our very first bras, we decided to just go for it. We spent another six months pushing ourselves very hard. This last year has been one crazy adventure but it's all finally coming together.
Ange: When Lisa presented me with the idea, there was never any doubt in my mind about the potential of HOTmilk - it was all about action and making it happen. The early days, for me, were all about excitement and commitment to making HOTmilk a success. I was living down in Queenstown at the time that Lisa and I started designing the range. I flew up to Auckland to meet with her to begin the process of design - selecting fabrics, laces, trims, etc - and to find a suitable manufacturer to bring it all together. I like to say I was in "total discovery mode". Everything was new and we were having to learn so much, so fast. Then I called every lingerie and mother/baby store in New Zealand  to convince them they must see our range...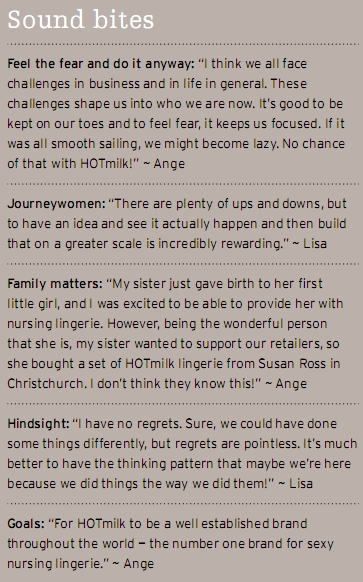 OHbaby!: What kinds of challenges did you face?
Lisa: I think we always knew it was going to be hard, but at times it certainly has been harder than we imagined. The first year was incredibly difficult, full of demanding and exhausting work, and no income. I always say that I can now understand why no one had done this before - it's excruciatingly hard!
Ange: The hardest part was organising the manufacturing. There was only one place in New Zealand that could make our bras, which made this process very difficult. The manufacturer wasn't able to cope with all that we required, and couldn't stick to the delivery dates we needed for final production. We were so proud to create a product that was made in New Zealand, but, as we discovered very quickly, New Zealand was not able to produce what we wanted. This was quite a sad moment for us. But we were so committed to our vision that this setback spurred us on to discover how we could make it work, and produce HOTmilk lingerie to the high standards that we and the market demanded. Our learning curve continues today - we're still learning what works and what doesn't!

OHbaby!: Did the business have quite a good reception initially, or was it dificult to get publicity?
Lisa: HOTmilk was instantly recognised as a fabulous idea, which was fantastic! New Zealand store owners have been so wonderful to deal with, and are so supportive. We started with HOTmilk stocked in 22 stores nationwide, and now we're in almost 300 stores around the world. We've only ever sold wholesale to stores. Our stockists are important to us, so we're loyal to them in return.
Ange: I think that HOTmilk had such a wonderful reception because it was desperately needed in the market. However, we were up against brands that are well-established competition, so we really had to prove our place in the market. We started HOTmilk as a wholesale business, and we'll continue to keep it that way. We only have one office, in Tauranga. However, we do sell into foreign countries, as Lisa mentioned - we use distribution outlets in Australia and London. Currently you can find HOTmilk lingerie in stores in New Zealand, Australia, the UK, and throughout Europe and Asia.

OHbaby!: You received some media attention relating to your advertising campaign in a national newspaper, which then landed you on TV. How did you handle the implication that pregnant women don't have the right to feel sexy?
Ange: Pregnant women absolutely have the right to feel sexy! Some days a mother may feel "pretty"; some days she wants to feel  "sexy", "funky" or "chic". Just because she's pregnant or breastfeeding doesn't mean her emotions are nonexistent. And how can beige underwear make you feel any other emotion than drab or ancient? It was pure pleasure to face that "storm in  a teacup", as that is exactly what HOTmilk is about. Lisa and I believe that mothers deserve to have sexy nursing lingerie!

OHbaby!: What was most exciting about starting up a business?
Ange: Ownership of something beautiful, of making a product that has a story and has emotion. Creating a product that brings sighs of relief to mothers all over the world.
Lisa: What's always been exciting for me is when we visit one of the stores that stocks our lingerie and see someone in there buying a HOTmilk bra! That feeling never gets old!

OHbaby!: What is your favourite thing about the business now?
Lisa: Seeing the product being worn by women, and hearing stories about how our lingerie has changed how women feel about themselves and their bodies. Hearing those stories can bring me to tears!
Ange: My favourite thing about the business is discovering the unknown and reaching new heights. What I most enjoy is the people we have with us - our team, our customers and my being part of this with Lisa.

OHbaby!: How do your partners feel about the business?  How do they offer support?
Lisa: My husband, Roly, is multi-talented so he helped out in all aspects of the business in the early days, specifically graphic design and marketing. He's still excited about it and takes pride in it. He needs his own ventures now to ensure  both our lives aren't swallowed up by the business and that we have something else to talk about at dinner other than bras. Also, he says he'll never look at lingerie the same way again - it's definitely lost its mystery for him!
Ange: My partner, Crawford, is exceptionally supportive. The support he provides comes in the form of unconditional love that is something quite special, especially when I'm tired, grumpy, overworked, and stressed! Luckily, we both have a sense of humour!

OHbaby!: Who are your inspirations, in terms of other women in leadership roles?
Lisa: I am a fan of Helen Clark - she always has an answer, and I respect that. I also respect all mothers, whether they are working or not! Being a mum is a job and it's damn tough; tougher, I think, than coming to the office. I think they deserve way more credit for what they do.
Ange: I'd also have to say that I'm impressed by Helen Clark. I'm not very fond of politics but she is one strong woman! Also, any woman who is in the fashion industry or rag trade I admire. It's a tough world to be in.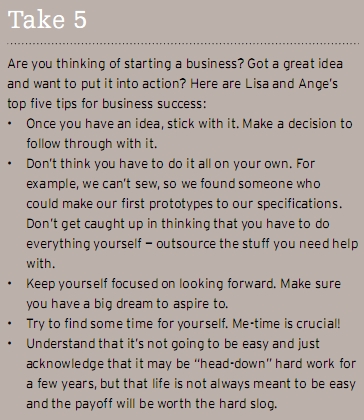 OHbaby!: What did you learn about the business that surprised you?
Lisa: That you can actually look forward to going to work!  If you enjoy what you are doing, it doesn't feel like a burden  at all.
Ange: I guess what surprises me most each day is the emails we receive from all over the world. It can be an email from a mother, a husband, or a grandmother, sharing their thoughts, thanking us for bringing HOTmilk into the world. Receiving these is so gratifying, knowing that all you have created has made a difference in someone's life out there. It's amazing.

OHbaby!: Did you learn anything about yourself that surprised you?
Lisa: How little sleep we can actually survive on!
Ange: That I expect nothing less than perfect or close to it. Lisa and I discovered this about each other only in business, which was quite amusing! We have been friends for over 12 years and never knew this about each other. It works so well for us being business partners. Lisa and I are very fortunate to have a brilliant working relationship and a beautiful friendship.

OHbaby!: What benefits does owning your own business have for your family?
Lisa: I do have the flexibility to never miss one of their special moments as I can dictate my hours, I work most nights so that I can have time with them during the day. And, perhaps one day, we might have some financial benefits too…

OHbaby!: How does motherhood fit in with being a business owner, and vice-versa?
Lisa: I'd be lying if I said it's easy. It's not. I pride myself, though, on the fact that my business doesn't suffer because I'm a mum, and I make sure I'm a great mum, so the kids don't suffer. What suffers is ME! As a working mum, you make time for everyone else, but not yourself. There have been days where big decisions have had to be made and childcare falls through. It's not possible to work like this - kids don't understand that you need them to be quiet while you're on the phone. I have found I can't handle both kids and work at the same time, and I've had to adapt to that. I have fantastic days where we have two to three hours of quality time in the morning, then the same again at night when I come home. If I can manage to get quality time with my family and quality work done, then it's the best day ever!
Ange: I don't have any children yet, but I have been a nanny and have been a part of many children's lives, which I greatly enjoyed. Just because I don't have children yet doesn't mean that I don't understand the importance of balancing family and business. I have worked with Lisa and been a part of her family since this all began, and not a day goes by that I don't admire Lisa's strength, courage, and ability to be a wonderful mother and business partner.

OHbaby!: What direction would you like to see HOTmilk go in the next five years? The next decade?
Lisa: I'd like to see worldwide expansion into all independent retailers. I want HOTmilk to expand, add improvements, and be the frontrunners in advertising campaigns, anticipating what mothers really want.
Ange: Lisa and I always joke that we created a monster. It has many different personalities, which never makes for a dull moment. Our monster is full of life!
As seen in OHbaby! magazine Issue 2: 2008