Tips for a successful cake smash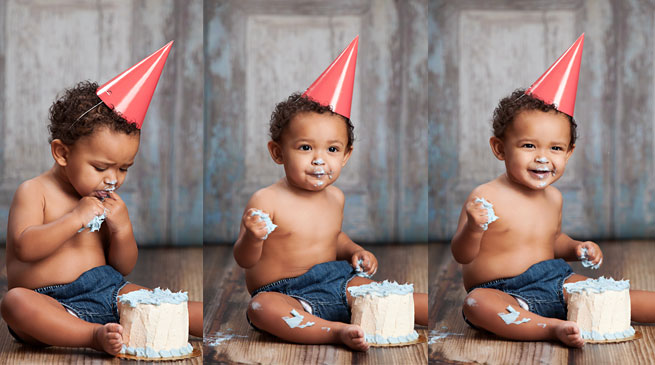 If you're planning a first birthday party for your little one, you may be considering a cake smash photo session. Yes, it's just what it sounds like – a cake for the guest of honour to smash up, crawl through, put on his/her head (it happens!) or possibly just eat!
It gets messy, but the photos are priceless. Here are some tips to help you.
The cake
You don't have to be too extravagant here. Buying a simple sponge cake and icing it yourself would do the trick. Sponge is nice and squishy – easy for smashing! It doesn't have to be big either.  If it's small, there's less to clean up afterward!
Buttercream icing is perfect – soft and easily coloured – or even whipped cream. Avoid fondant icing as it's too hard to break up and your little one may want to spend ages picking it apart and ignore the rest of the cake!
Avoid unsightly stains and dribbles by using plain vanilla cake - not chocolate! Pale icing is probably best for that reason too, although a smear of bright icing can be very effective. Red icing is a no-no because it tends to look like blood as it melts...
Before & after
You don't need to be too extravagant with decorations – you want your child and the cake to be the focus. You could hang a plain sheet up in the background, or use a solid coloured or light-patterned wall for the background.
Have plenty of wipes and/or facecloths handy, and a towel or two. 
A plastic sheet or table cloth is a great idea – it can be wiped down or hosed off easily afterward.
Lots of parents put their little ones in just a nappy – you can guess why!  And if you decide on just a nappy, a nappy cover for disposables makes the nappy look a bit nicer.
Taking the photos
Some kids are quite reluctant to put their hands in the cake, especially if they haven't had much experience with it. You can try putting a bit on your finger to pop in his or her mouth, and then try the same with his or her finger. Even this 'taste testing' can make for some lovely photos.
If you're tempted to include you child's favourite toy in the shot, just be prepared for teddy or bunny to get a little messy too!