Brilliant ideas for first birthday presents!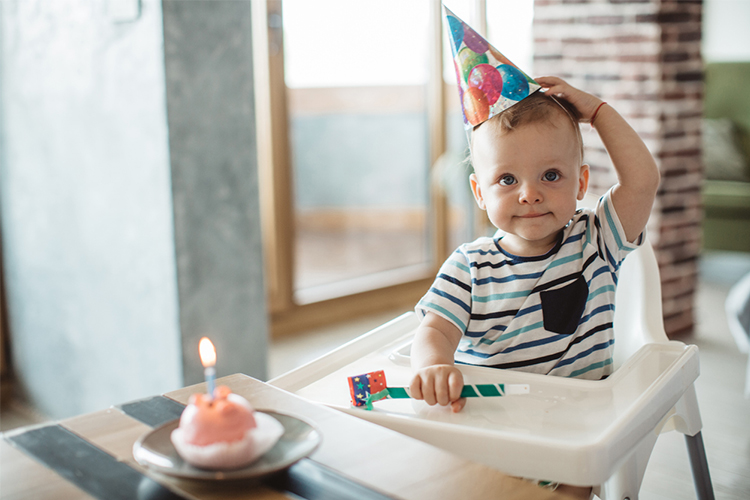 Your baby's first birthday might feel like it belongs more to you than your baby. After all, you've just survived some of the hardest trials of parenthood! While your baby won't understand why everyone is making such a fuss, there's still a whole lot to celebrate. By simply observing and interacting with their surroundings, most babies have figured out how to sit up, crawl, pull themselves up to stand, and even walk by the time they are toddlers. Their grasp of language is exploding, and they can hold a spoon, pick up a blueberry, and give lots of hugs and kisses. With that in mind, you may want to consider gifts that will further develop their gross and fine motor skills, their vocabulary and language – and have fun while doing it! We canvassed mums in our OHbaby! community for first birthday present ideas and we've shared them here, in alphabetical order.
Blocks, mini boxes or cups – anything that can be stacked
Books – good quality board books with flaps to explore
Bubble mixture and blowers
Couch – a mini one that folds out
Duplo
Gift vouchers – you can tell people what you're putting it towards
Little Tykes car
Table and chairs
A photo shoot
Swing – but consult the parents first, to make sure
Table and chairs
Wine for the parents. Hooray for making it through the first year!
Wooden pull-along toys
Wagon
Zoo pass
We also asked some of our friendly retailers for their ideas:
The Solvej swing
This swing converts from a baby swing to a toddler swing when your toddler is around 3 years old, making it suitable from about when your baby can sit up unaided to the weight of 40kg/88lbs. Designed for indoor and outdoor use, it has a safety belt and closed hooks and screw eyes, while the beads are coloured with non-toxic paint. Kourtney Kardashian loved this Kiwi-made product so much she included it in her 2018 Christmas Gift Guide!
$219 from naturebaby.co.nz
Le Toy Van Rainbow Cloud Walker
A unique baby walker in a cloud shape with 45 rubberwood blocks painted in delightful water stained rainbow colours and a great assortment of shapes. The sturdy wooden construction offers support to develop their confidence. The traditional wooden rainbow blocks encourage shape recognition, develop hand-eye coordination and imagination.
$179.95 from kidrepublic.co.nz
The Wishbone Flip
A great first ride-on bike for your little one! The Wishbone Flip is a 3in1 indoor ride-on toy. It's a rocker. It's a push-toy. It's a ride-on. With its innovative flipping mechanism, the Wishbone Flip transforms from rocker to ride-on in seconds.
Moover OHO ride on truck
This Moover OHO ride on truck is strong, sturdy and colourful and will bring joy to any little boy or girl. The Moover Truck is made from high quality furniture grade MDF with large plastic wheels. Best of all it grows with your little one - from ride-on to sturdy construction toy.
$99 from bellybeyond.co.nz
Hape wooden rainbow xylophone
Take note! This sturdy wooden xylophone lets kids make music while practicing colours as well as scales. Promotes dexterity, hand eye co-ordination, and manipulation as well as introducing logic, matching, spatial relationships, critical thinking and an understanding of cause and effect. Contains 3 pieces.
$30 from thetoybox.co.nz
Box set of 3 Reo Pepi board books
These books by Kitty Brown and Kirsten Parkinson were created with pēpi (babies) in mind! They are durable board books that have one repetitive sentence structure in Te reo Māori and also the English translation underneath. Each page introduces a new kupu (word) and a beautifully illustrated pikitia (picture).
$54.00 from poiprincess.co.nz