Enchanted Forest Childrens Birthday Party Theme for Boys & Girls
Birds, bugs and butterflies abound in this delightful birthday party that boys and girls alike will enjoy.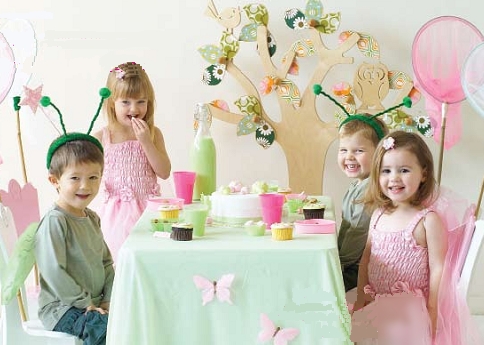 Enchanted Forest Birthday Theme
A birthday party theme for boys and girls


Choosing a good non-gender-specific birthday party theme can be difficult, especially for a toddler party. At this age, boys and girls are very into role-playing and dress-ups, and all too often, the costumes and themes available seem to favour one gender over the other. When your toddler has a mixed group of friends, you don't want to exclude the boys from a princess party, or avoid inviting the girls to a pirate party. You want the theme to be inclusive and reasonably gender-neutral - which is why we love the Enchanted Forest idea. With enough frilly things to satisfy the girls (think fairies and magic wands), there's also a fair dose of boy-friendly elements (creepy-crawlies, trolls, and bug-catching).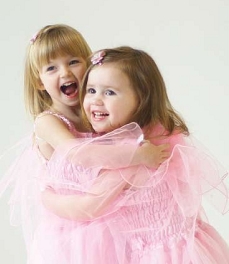 Decorations
When it comes to decorating, it's important to keep things simple. There's not much point going overboard with fancy themed banners and tableware, as the party guests are going to make a mess with whatever you have out. They won't appreciate matching serviettes, so why bother? Choose two colours and base your decorations around those. We spent a lot of time at our local Spotlight choosing simple coordinates that would be child-friendly as well as visually appealing. We found cute butterfly- and heart-shaped plates in the same shades of pink and green as our theme colours. Our tablecloth was a piece of green tulle purchased by the metre at Spotlight. It's inexpensive but looks gorgeous.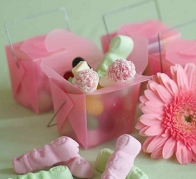 Food
Without a doubt, the food is the most important part of any party, especially when it's a children's party! Our best tip for getting your little party guests to eat reasonably healthy party food is to give it creative, cute names and tell them it's something else. Choosing something you know they will eat (like our "birds' nests", which are essentially little ramekins of spaghetti and meatballs) will also encourage them to gobble up what's on offer. And be creative in your presentation. If the food you're serving looks appealing, they'll be more likely to eat it!

Pixie pizzas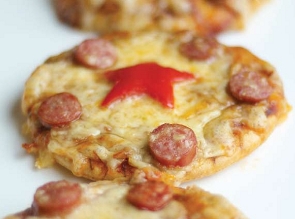 Makes 4
What do our forest friends eat for dinner? Why, pixie pizzas, of course! These individual pizzas are delicious and filling.
You will need:
4 mini pita breads, uncut
1/2 pottle pizza sauce/tomato paste
1 1/2 cups grated cheese
2 Kransky sausages
1 capsicum
How to make:
1. Preheat oven to 180°C. Spread tomato paste over top of each pita bread.
2. Sprinkle grated cheese evenly over the tomato paste.  
3. Slice Kransky sausages and place on top of the cheese, around the edge of the pizza.
4. Cut capsicum into the shape of a star or heart, using biscuit cutters or a sharp knife.
5.Place in oven for 15-20 minutes or until the cheese has browned a little on top. Allow to cool and serve.

Marshmallow fairy pillows
Makes 1 big "pillow"
Light, fluffy marshmallows are perfect party food, as they're easy to make and go down a treat. Your guests will wish they could sleep on marshmallow pillows too, just like the fairies!
You will need:
2 tbsp gelatine
1/2 cup hot water
2 cups sugar
1 cup water
1 tsp vanilla essence
Red food colouring
A mix of icing sugar and cornflour (2 parts icing sugar to 1 part cornflour)
How to make:
1. Dissolve gelatine into 1/2 cup hot water and set aside.
2. Place sugar and 1 cup water in saucepan. Heat on medium-high and stir until sugar dissolves.
3. Pour gelatine into saucepan with sugar mixture and bring to boil. Allow to boil for 12-15 minutes, then remove from heat.
4. Pour mixture into a heatproof bowl, add vanilla essence, and beat well until mixture is very thick and white. Add a few drops of red food colouring and stir through.
5. Line a 20cm square tin with baking paper and pour mixture into the tin. Leave overnight in refrigerator until set.
6. Once set, lightly dust surface with a mix of icing sugar and cornflour, and turn the marshmallow out of the tin.
7. Lightly dust the top of the marshmallow with the icing sugar and cornflour mix. You can serve as one big "pillow", cutting off small pieces for partygoers, or use a pillow or heart-shaped cutter to punch out small shapes.
Fairy wands

Makes 8
Fruit skewer fairy wands are a healthy sweet option for party treats. Choose your ingredients based on colour and firmness, and keep it simple - you only need two or three different options. We chose grapes, strawberries, and marshmallows because we love the jewel-like colour combination and delicious flavours.
You will need:
8 wooden skewers
1 bunch seedless grapes
1 punnet strawberries
16 marshmallows
How to make:
1. Thread a grape, a strawberry, and a marshmallow on each skewer.
2. Repeat so that each skewer has five to six items. Keep refrigerated until ready to serve.

Birds' nests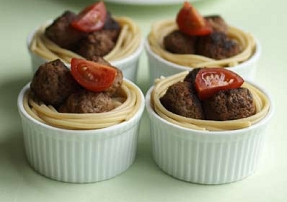 Serves 4
99% of children love spaghetti and meatballs, so why not dress it up a bit and serve it party-style? Our spaghetti "birds' nests", complete with meatball "eggs", will have them begging for seconds. This recipe makes heaps of meatballs, as kids love to eat them on their own even when the spaghetti is gone!
You will need:
4 ramekins
250g spaghetti
500g prime mince beef
1/2 cup bread crumbs
1 1/2 tbsp Worcestershire sauce
1 egg
1/2 pottle pizza sauce/tomato paste
Olive oil
How to make:
1. Bring a saucepan of salted water to the boil, then add spaghetti. Boil according to packet instructions until spaghetti is "al dente". Drain and toss through a tablespoon of olive oil to prevent it from sticking. Set aside.
2. In a large bowl, combine mince, bread crumbs, Worcestershire sauce, egg, and tomato paste. Mix together.
3. Roll mince mixture into small egg-shaped balls, using a touch of flour to stop them sticking to your hands.
4. Heat a dash of olive oil in a frying pan. Add meatballs and cook until browned and cooked through.
5. To serve, set spaghetti in a "nest" shape in a ramekin, then place a few "eggs" in the nest. You can also add a wedge of cherry tomato, a kafir lime leaf, or some chopped chives to the nest for effect, if you so desire.
Hedgehogs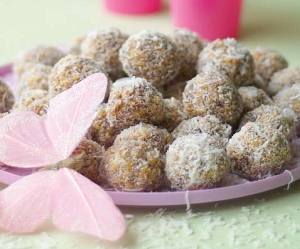 Makes 35-40
Hedgehogs are a favourite recipe in OHbaby! Managing Director Angela Pedersen's family, and this recipe has been passed down through the generations. They're always a hit, and even get the kids eating dates.
You will need:
1 egg
3/4 cup sugar
170g butter
1 1/2 cups dates, chopped
1 tsp vanilla essence
3 cups puffed rice cereal (like Ricies)
Shredded coconut
How to make:
1. Place egg, sugar, butter, and dates in a saucepan. Bring to the boil, then add vanilla essence. Simmer for three minutes, then remove from heat and allow to cool. Once cool, transfer to a large bowl.
2. Stir puffed rice cereal into the mixture, then roll mixture into small balls.
3. Place shredded coconut in a shallow dish. Roll balls in shredded coconut to coat.

Ladybug cupcakes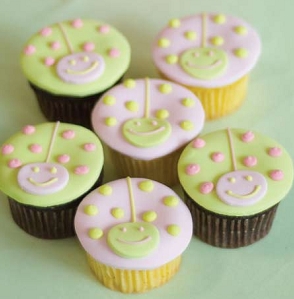 Makes 18
Every enchanted forest has its share of magical critters, and these lovely ladybug cupcakes are just gorgeous. Our instructions for icing them are below.
You will need:
1 cup flour
2 teaspoons baking powder
1/4 cup milk
1/2 cup caster sugar
125g soft margarine
2 eggs
1/4 cup milk
1/2 teaspoon vanilla essence
How to make:
1. Preheat over to 190°c. Place paper cupcake holders in a 12-hole mufin tray to prepare for the cupcake mixture.
2. Cream margarine, sugar and vanilla until light and fluffy. Add eggs one at a time and beat well.
3. Sift flour into a bowl. Add to mixture and stir until combined.  
4. Spoon mixture into paper cases and bake for 15 minutes.  When cold, decorate as desired.


Cocoon salads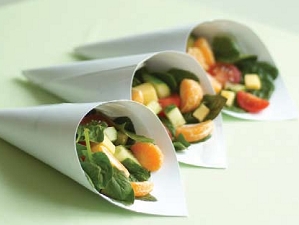 Makes 4
Butterflies have to come from somewhere - and a great way to encourage children to eat their greens is to tell them they're actually chomping on butterfly beds presented in wee cocoons. 
You will need:
1 bag of baby spinach
1 punnet cherry tomatoes
1 avocado, peeled and cut into slices
1 cucumber, peeled and cut into slices
200g cheese, cut into cubes
3 mandarins, peeled and segmented (or 1 tin mandarins, drained)
Thin cardboard
Baking paper
Sticky tape
How to make:
1. In a large bowl, mix baby spinach, cherry tomatoes, avocado slices, cucumber slices, cheese cubes, and mandarin segments. Refrigerate until ready to serve.
2. To make cocoons, cut sheets of thin cardboard into squares. Roll into cones and use sticky tape to hold cone shape. Line with baking paper.
3. When it's time to serve, spoon salad into cocoons and hand to children with small forks.
4. Mix 2 tbsp mayonnaise and 2 tbsp tomato sauce together and drizzle over salad as dressing, if desired.

Butterfly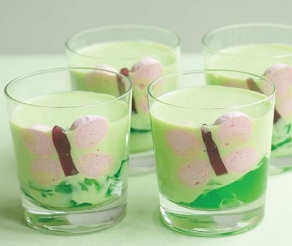 nectar
Makes 4
This drink is sure to give your little party bugs wings.
You will need:
4 glasses
1 packet green jelly
8 marshmallows
2 jelly snakes
1 2 litre bottle green milk - use lime Primo or add a few drops of green food colouring to regular milk
How to make:
1. Make green jelly according to packet instructions. Allow to set.
2. To make butterfly bodies, cut jelly snakes in half, then slice the "belly" of each snake off so some of the sticky inside is exposed. Stick to the inside of the glass.
3. To make butterfly wings, cut each marshmallow in half, then place on the inside of the glass on either side of the butterfly body, in the shape of a butterfly.
4. Spoon green jelly into the bottom of each glass, then add green milk.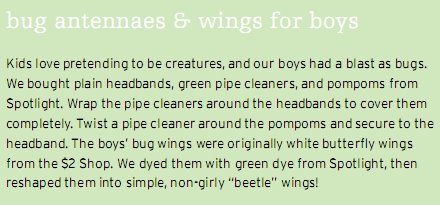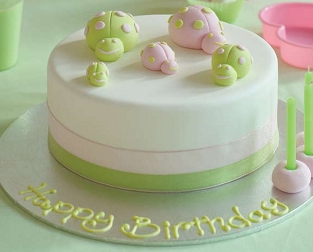 AS FEATURED IN ISSUE 3 OF OHbaby! MAGAZINE. CHECK OUT OTHER ARTICLES IN THIS ISSUE BELOW