Audi A5 Sportback
In a slight detour from our usual car review, Dr Anil Sharma takes a joyride in the Audi A5 Sportback and finds practicality and performance go hand in hand.
While New Zealand is a small market for new cars, Audi seems to be introducing new models with Teutonic precision.  So it was on a dark and stormy Friday evening that I took the Audi A5 Sportback 2.0L TFSI Quattro S-tronic (intercooled turbo-charged) for a spin from Auckland to Rotorua.
I was due in Rotorua for the weekend to give a series of medical lectures, and at the end of a hard-working week I was filled with trepidation and angst at what my around-town MINI Cooper S would be like on a trip that was only really suitable for a touring car. Cue the Audi A5 Sportback. My initial eye contact with this graceful "coupe" was pupil-dilating enough: A refined and distinctive machine with a gently sweeping forward section. Curvaceous as all beautiful cars should be; not scooped, chiselled or hewn heaviness.
As I attempted to fill the 480 litres of cargo space with my one suit and bag,  I did wonder if the luggage's ability to roll around in the ample boot space would crinkle my threads.
On immediate impressions, the drive was comfortable and smooth, especially after I got used to the efifcient brakes. South of the Bombay Hills, the sure-footed Quattro all-wheel drive system came into its own and brought back memories of the early Quattros I used to see as a teenager in West London. It held the wet and windy road marvellously and the comfort afforded by the customisable electric seats and lumbar support made the three-and-a-half hour journey seem much less. After a stop for dinner in Cambridge, I continued on until the "welcoming" aroma of geyserland. Enroute entertainment had been more than acceptable, with a superior sound system and a fine hub at my fingertips.
The journey home was in the daylight, and overtaking Sunday drivers was a pleasure. I stuck to the evolved automatic gearbox and enjoyed the smooth acceleration. Handling and performance were remarkable, though perhaps I would like it firmer around the bends.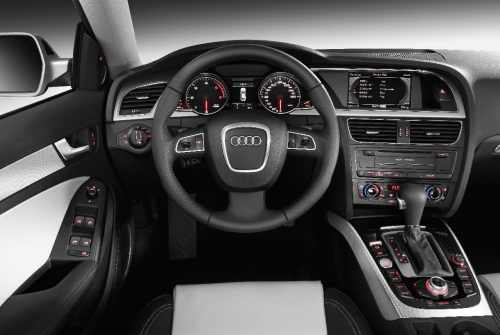 So what is this car? While reminiscent of my old Pug 406 Coupe, with similar aesthetics, the big fifth door on the back makes it a large hatchback with 480 litres of cargo space. It's not a family wagon per se, but as a second car with style and panache, it ticks most of the boxes.
 The 2.0 litre TFSI that I drove has a 1,984cc 4-cylinder engine producing a spirited 155kW of power and 350Nm of torque. It hauls the 1,684kg Sportback from 0 to 100km/h in 6.6 seconds.

Is it frugal? Well, the 95-octane petrol is burned at the reasonable rate of 7.4L/ 100km, with just 172g/km of C02 emission.
Power is delivered to the road via Audi's Quattro permanent all-wheel-drive setup with self-locking centre differential, driven through a seven speed S-tronic DSG transmission.
The electronic safety aids, airbags, and refinements expected of a $90,000 car are, of course, present, as well as many other safety and comfort features.
An excellent feature I genuinely appreciated was that "my" car detected vehicles in my blind spots on either side. Given the nature of some New Zealand drivers who think they are on European autobahns, a warning light on both door mirrors will warn you that a reckless overtaking manoeuvre is about to occur from the left.
The A5 Sportback was hard to give back. It is definitely a car for my imaginary 10-car garage, but probably in its even faster, and more frugal, 3L diesel version.  It will no doubt suit the niche of us 40-something men who don't like four-door sedans with that boring boot on the back, and will add a little excitement to the company-car carpark.
If you are after a practical, five-door coupe with performance, comfort, and grand touring potential - and you have two or fewer children to fit in - this is a stand-out car in a class of its own.

Dr Anil Sharma is a specialised doctor in gynaecology and maternity. He is involved in lectures and updates for family doctors and frequently takes part in debate  regarding women's health and maternity for print media and radio. He believes that anxiety and fear can be conquered by knowledge. Anil immigrated to New Zealand from the UK in 2001 with his wife Rachel, and he tries hard to be a hands-on and fun father (putting golf and cars on hold for the time being) to their three daughters, who were all born here. For further information about Anil, visit www.dranilsharma.co.nz
AS FEATURED IN ISSUE 11 OF OHbaby! MAGAZINE. CHECK OUT OTHER ARTICLES IN THIS ISSUE BELOW