Audi Q7 4.2 TDI Quattro
Looking for an upgrade that not only fits the whole family, but drives them around in style? Our husband-and-wife team of car enthusiasts, Royce and Angela Pedersen, check out the Audi Q7 4.2 TDI Quattro.
 
What he says
The Audi Q7 has always been on my list of "must-drives", and since having a family, it has made its way a lot closer to the top. Now I have had the pleasure of test-driving this masterpiece and just wish it was mine to own!
There are two types of people when it comes to cars - those who like a car because of its ability to get from A to B, and those who appreciate style, performance, and luxury, and realise that driving a great car is like being in love. So, having said this, if you consider yourself in the first category, you may not understand this article and are probably wondering to yourself why every family doesn't just own a van!
I think it's clear which camp I'm in. I have always marvelled at the size and style of the seven-seater Audi Q7 - one of the largest SUVs on the market. I was happy to see that both inside and out, the quality and swanky styling matched my expectations of grandeur. I slid into the driver's seat, looking forward to my driving experience. The interior had a clean, spacious, and somewhat minimalist feel to it. The dashboard display was very attractive and informative, and although I felt there were a few too many buttons, I quickly got used to their functions (without reading the manual, of course!).
The Q7 4.2 TDI Quattro boasts a 4.2L diesel twin turbo V8, which unleashes 326 brake horsepower (240kW) and a whopping 760Nm of torque. This sort of power is just what is needed to haul the hefty 2,450kg of Q7 around without frustrating the most demanding of drivers. While this power is fantastic, it is also my biggest complaint. The power delivery is surprisingly inconsistent, perhaps due in part to the size and setup of the turbos. The first quarter-throttle provides almost no acceleration, so you quickly apply just over half-throttle and, all of a sudden, find your eyeballs sinking into the back of your skull as the Q7 launches forward as if it were taking off into orbit. Maybe it is my insatiable thirst for raw horsepower that causes this phenomenon, but it still suprises me just how difficult it is to drive the Q7 smoothly without having it suddenly and unintentionally accelerate with the ferocity of an attacking lioness. Speaking of an attacking lioness, I found this acceleration conundrum really irritated my wife. Every time it occurred, I felt prey to the type of stinging glare that could render me as helpless as a male praying mantis about to be consumed by its mate.
While you may think that owning a diesel vehicle lets you off the "pollution hook", it certainly doesn't merit you a green certificate either.  Nor will it do your bank account any favours. The Q7 used over 12L per 100km on our around-town test; however, this is taking into account my heavy right foot syndrome, not to mention the fact that it's a twin turbo V8 weighing almost 2.5 tonnes. But if you can afford one of these without re-mortgaging the house, you're probably not going to have a problem spending a few extra dollars on fuel.
In the past, I have been disappointed with the handling of a lot of high-powered SUVs, but I was pleasantly surprised with the Q7's agility and prowess. I was even more impressed with the adjustable suspension, which you could play with via the centre console. I was like a child in a lolly shop! You could raise and lower the vehicle, as well as put it into Comfort, Offroad, and Dynamic stability modes, each with their own height setting. As a result, you could have the vehicle perform to your liking depending on driving style, passenger's preference, or the conditions of the road.
Lastly, I commend Audi on their use of quality materials inside and out. In spite of the Q7's ludicrous overall weight,  Audi have used lightweight materials throughout the vehicle and have spared no expense to bring you a highly attractive, safe, and well-performing work of art.

What she says
I have seen many an Audi Q7 at Omaha Beach, where we sometimes stay with friends, and have been curious as to what all the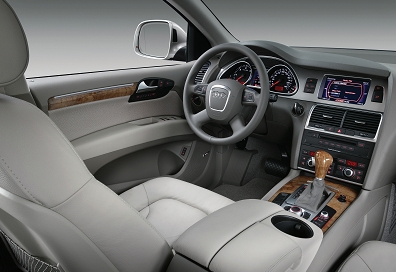 fuss was about. My first impression confirmed my suspicion - the Q7 is right up there with the best of them. I love the look and quality feel of the Q7. It is very well-designed and seems to anticipate all of your motoring needs and desires.
In addition to its good looks, the Q7 drove like it was part of me. There was almost no engine or road noise inside the car, except for the faint roar when accelerating - reminding me of the raw power available if needed. The Q7 drove very well and it certainly didn't feel like it weighed as much as it did. I did find the ride to be a little hard and bumpy, but it softened out, without becoming too unresponsive, by simply adjusting the suspension on the handy centre console.
The stereo was impressive, with a number of customisations available to really get the best out of what you are listening to. For a $12,000 upgrade, you can have a Bang & Olufsen sound system, but I suggest you donate your spare $12k to World Vision, because you won't be disappointed with the standard stereo. I think it's great that Audi have put audio controls on the steering wheel, as this means you can stay more attentive to your driving. I am also in favour of the cruise control - absolutely essential for those long trips when you often find yourself unintentionally speeding because the ride is so comfortable. One thing I noticed was that when braking suddenly, the car sat very flat and pulled up very quickly without lurching - a must for a vehicle with so much power.
You can customise the Audi Q7 with what seems like hundreds of options, including the "Audi Lane-Change Assistant" (what are they trying to say about Audi drivers?!). A favourite feature in our family was the large, fully electric sunroof. Great for those summer days when you really want to make the most of the sunshine! Many of the features are only available by default in the 4.2 TDI Quattro model, so if you are thinking of buying one, we suggest you look at what options you really want and check to see that they are included.
I was pleased to see Audi had used metal latches for the child restraints (yes, some cars use plastic), and in the case of things that shouldn't be touched by sticky little fingers - Audi has conveniently tucked them away or provided an override switch to the driver. The safety features were astounding - aside from the fact that you feel invincible due to the sheer size and weight of the Q7.
Overall, I was very impressed with the Audi Q7 4.2 TDI Quattro. It met and exceeded many of my expectations, and I recommend this vehicle to anyone who has a love of luxury, style, and performance - and the budget to support it! 

Royce and Angela Pedersen are parents of two daughters, Ella and Eva. Angela is OHbaby!'s Managing Director and Publisher of OHbaby! Magazine.