BMW x5 3.0l diesel turbo
Having a child and subsequent children is often a catalyst to upgrading to a family car. As your family gets bigger, often so does your vehicle, as you have to fit more in when going away on holiday or even just getting out and about. Jumping from car yard to car yard can be time-consuming and stressful with a handful of children in tow, so we've aimed to help make this process easier by reviewing a range of family vehicles, testing them for child and parent friendliness. Husband-and-wife team and self-confessed car enthusiasts Royce and Angela Pedersen checked out the BMW X5 3.0L Diesel Turbo.


What she says:
When the gentlemen from Team MacMillan BMW dropped off the latest BMW X5 for review, I was impressed they'd managed to locate my reasonably hard-to-find residence. But when the time came for them to pick up the X5 a few days later, I was wishing they would forget the directions to my house. 
The fact it was judged Best New Design at the Frankfurt International Motor Show last year is no surprise. I was impressed just watching it pull into the driveway. But would this good-looking vehicle stand up to the rigours of a family of four with two children two years and under?
The short answer is yes. Every car we review is judged on several child and parent-focused factors; in particular, the safety and security of family is paramount, including child safety features, child considerations, and space, both in the car and in the boot.
The X5 provides ample space for two car seats in the back.  Three would be a close fit, but it is likely that the middle seat will only require a booster seat in most instances when you have three children in the back. It is well-equipped with a safety standard LATCH system.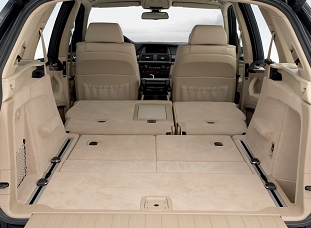 I had no problem fitting a double-decker baby stroller, chilly bin, and a good week's worth of groceries in the boot, so that gets double brownie points from my point of view.
I was impressed to hear BMW had a group of kids spend a day in the X5 during its development to hear their feedback. Three key alterations came out of this: The addition of arm rests, hand grips to make climbing in and out more easy, and better side visibility.
My impression while driving was one of superior quality. I felt like we were in a very secure, solid vehicle, and I experienced peace of mind knowing this sport activity vehicle (SAV) earned the top rating from the Insurance Institute for Highway safety (IIHS). It felt very solid to drive, without feeling overly heavy or "large" on the road. In keeping with BMW excellence, the quality of material used and their years of experience and testing has produced a car that meets any family's demands.
The interior is very well laid out and aesthetically pleasing. The gadgets are sufficient to keep our men happy without causing undue concern for us ladies. There is push-button engine start, a push-button hand brake, and almost everything is customisable to presets. I particularly like the subtle "head-up display" (HUD), which presents information, such as speed, on the windscreen, directly in the driver's field of vision, so that the driver can concentrate on the traffic at all times. I did feel that my view out of the rear windows while reversing was a bit limited, mainly by the height of the car and the size of the rear pillars, and while I had the sensors to warn me of distance to objects behind the car, I was still cautious. The "reversing-assist camera" is just one of the numerous upgrades that can be purchased to eliminate the danger of backing over anything. 
With today's emphasis on global warming and reducing our carbon footprints, it is significant that BMW have produced an efficient low-emission engine which is as friendly on the environment as it is on your pocket. As those who have travelled Europe will know, modern diesel-powered cars are now incredibly commonplace on the roads, far from the old smoky, slow diesels we've all been stuck behind from time to time!
Overall, I thoroughly enjoyed the X5 and would be very happy to own one. The BMW X5 is sure to give you everything you could need and put a grin on your face.
What he says:
The BMW X5 diesel turbo turns heads. It certainly turned mine. I'm not one for diesels and definitely not one for large, clumsy, SUV-style vehicles and the stigma associated with them, but with the addition of another baby in a year or so, we're going to have to make a move in this direction. 
I'm a performance-car enthusiast and I know talent when I see and drive it! I'm not sure whether it's the exhilarating 235 diesel horsepower, or the refined, sexy lines, but this work of art has certainly challenged all of my preconceptions about family wagons.
One of the best places around Auckland to put a vehicle through its paces is Scenic Drive, which takes you through the Waitakere Ranges out to Piha and the West Coast beaches.The X5 handled amazingly through the tight bends, without a hint of understeer while breaking hard into even the tightest corners, thanks to the traction control system. For a vehicle weighing over 2000kg, it really is amazing how BMW have got the handling sorted. Large touring vehicles used to deliver a soft ride with loads of body roll, but not here. I was impressed with how surprisingly responsive the suspension was - it felt like I was driving a performance car at half the weight. 
Braking was equally impressive, partly due to the 22" tyres being over 12" wide, and the brake rotors being larger than the average Japanese car's entire wheel! BMW have obviously put a lot of time, experience and knowledge into making these stop as well as they start. 
The 3-litre turbo-charged diesel engine really had me surprised. It packs a real punch, with amazing torque down low, and really smooth acceleration through the rev range, thanks to what must be quite a large turbo. For this reason, there is a bit of lag when you put your foot down, but this is more than made up for when the turbo spools up. With over 230 horsepower and diesel usage just over 7 litres per 100km, I'd like to know what they've been doing wrong with diesels all these years.
In summary, the things that really stand out to me are how the X5 diesel feels and performs like a performance car, not a large, clumsy SUV of old, and has all the quality and safety credentials you could want when it comes to driving the people you love the most.  


Royce and Angela Pedersen are parents of two daughters, Ella and Eva. Angela is OHbaby!'s Managing Director and Publisher of OHbaby! Magazine.
AS FEATURED IN ISSUE 1 OF OHbaby! MAGAZINE. CHECK OUT OTHER ARTICLES IN THIS ISSUE BELOW