Fancy French motoring with Citroen Picasso
Family Planning:
If your family is expanding to need seven seats in your vehicle, you cannot look past the new Citroen Grand C4 Picasso. Former OHbaby! Editor Ellie Gwilliam took the Picasso for a test drive, read on for her verdict:
My husband and I love French things - food, wine, movies, wine… So it was with much excitement that we learnt we had a French car waiting for a Gwilliam family test drive.
The Citroen Grand C4 Picasso sets the bar high in terms of safe and practical family motoring. The vehicle boasts advanced technology, such as an electronic key that detects your approach, a reversing camera and 360° Park Assist. It is kind to the environment with micro-hybrid technology to achieve notable fuel efficiency. And it's roomy. Seven individually adjustable seats and well-considered storage features throughout. The Citroen Grand C4 Picasso is also an award winner, including the prestigious TopGear Family Car of the Year, 2013.
It's definitely a people mover, but in a decidedly French way. There are enough edgy features to remind you that this is no ordinary car - it's European. The wipers and indicators are on opposite sides too, so the windows were swished every time we turned left making us feel a little foolish, but also a little European
First up, crazy big front windscreen. It's so oversized it extends behind your head. This makes visibility awesome, especially if you want to do a bit of stargazing. And it also gives the odd sensation of too much botox to the forehead – there's no squinting to see beneath the sun visors in this car.
Secondly, and still with the crazy big theme – the dash sports an impressive electronic display. It was almost as big as our TV at home. Officially referred to as the 'technospace', it featured an excellent reversing camera, plus 360° views that give you a picture of everything happening around the vehicle.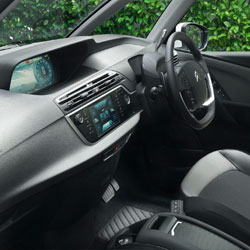 The technospace didn't have a CD player, but it does come with it's own built-in juke box so we bopped along to French family favourites until we figured out how to pair our phones with the console.
The blue tooth and navigation features are practical and easy to use. I figured out how to make them work without any outside assistance, and that is saying something.
The seats are a little fiddly to move around, but I'm sure you'd get the hang of it. They all move about independently too, so you can organise them in any configuration you like. And I tried the very back seat for one of our short journeys, quite special being tucked away back there. I probably wouldn't want to do too long a haul that way but the kids loved it.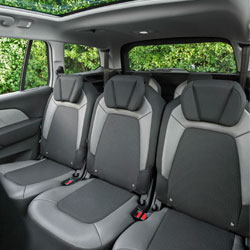 Back in the front passenger seat I particularly enjoyed the extendable footrest (you can almost lie flat with the seat fully reclined and your footrest extended) and the massaging seats. Yes, massaging seats. This is what we love about the French. They know how to look after themselves.
It runs on diesel and is very economic. It also features a speed limiter, which I think is excellent and should be essential in any new car. You obviously have to be careful in passing lanes or you can fine yourself struggling to overtake if you don't remember to de-activate the speed-limiter, but again – I figured it all our by myself, so it must be pretty user-friendly.
Overall impressions – this is a great vehicle for larger families. Citreon take car journeys seriously and have been very considerate in their design. The interior is well appointed with lots of compartments and cup holders. The kids particularly liked the trays that folded down from the front seats - just like on an aeroplane. Not that practicalThe boot is spacious and easy to access. We definitely traveled in comfort, and the safety features provided comforting peace of mind.
What I also liked is that while it was roomy and conveniently seated extra family members, it doesn't seem a huge car (although that massive windscreen is a little disconcerting – kinda bus-like) and from the outside it is very compact indeed. It really just seems like a station wagon. A chic station wagon. A chic spaceship-like station wagon.
At the end of the day, it was nice to feel French for the weekend, and if I ever manage to convince my husband that we really do need a people mover, we'll definitely be going European.