Ford Territory
Looking for a family-friendly vehicle? Our husband-and-wife team of car enthusiasts, Royce and Angela Pedersen, put the Ford Territory Ghia through its paces.    
What he says
"It feels heavy and manly!" my wife insisted. She was referring to the new Ford Territory Ghia I'd just brought home to test drive for the next few days. I have to say I would be inclined to agree on it being heavy. As for "manly"... Well, it's defnitely a family vehicle, but one that a dad would feel okay about trading in his "single guy" car for. I liked the feeling of being in control of such a powerful piece of machinery, which made me feel like I could simply push other vehicles off the road if they got in my way!
I was quite impressed with how substantial the Territory felt. My preconception of the Territory was that it's just like all the other mid-sized SUVs out there, but I was wrong. It felt larger, tighter, higher, and safer than I expected, comparable in those respects with any European SUV I've driven. This was my perception, anyway, but perception is everything if you are non-technical or are sceptical of glossy marketing material.
I did a little basic research to fnd out just how solid and safe the Territory is, and discovered that it has a 4-star crash test rating, dual-stage driver and front-passenger airbags, side-curtain airbags, and weighs in at over 2 tonnes. In a nutshell, these facts pretty much reinforced my decision - I would be more than happy to drive my family around in this.
I took the Territory for a drive out to Auckland's West Coast to see how it handled on the open road, as well as in the tighter corners. I was impressed with the 190 kilowatts of power delivered smoothly through the 6-speed transmission. However, much of this power was dampened by the weight of the vehicle. At higher revs, the power fades out (but pay around $6,000 more for the turbo model, and you wouldn't have that problem). There is ample power and plenty of torque down low to get you moving, though - the power delivery is smooth and deceiving, so you have to keep a real eye out for your speed.
If you are driving conservatively on the open road, you will have an enjoyable, comfortable, and safe trip, but if you start to put the Territory through its paces, or get to a windy section of the journey, you will find that there is a bit of body-roll. Some of this can be mitigated by increasing the tyre pressure, or, of course, you could just not put it through its paces in the first place.
The Territory does come with a plethora of ride-enhancement and handling features - Acutrac Plus, Control Blade Independent Rear Suspension, Virtual Pivot Control Link Front Suspension, Anti-lock Braking System with Electronic Brakeforce Distribution, Grade Control Logic, Traction Control, Dynamic Stability Control, Hill Descent Control, etc... I marvel at how far technology has developed handling and performance since the days of my classic '67 XR Falcon V8 (every husband has to have his toys!).
Speaking of V8s, it might as well be one - the 4litre "Barra" power plant delivers all that raw horsepower at a cost, leaving you to wonder about the size of the Territory's carbon footprint. Fuel economy is one item that doesn't get my 5-star rating.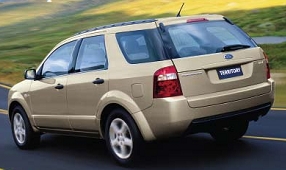 What she says
I was very interested in the Ford Territory as a possible replacement for our old car, which we have long outgrown. The key thing that I wanted to compare was the capacity to fit three car seats (or two car seats and a booster seat) side-by-side. I was pleasantly surprised to find that the Territory boasted a deceivingly spacious interior. Add to this the fact that it is constructed with quality materials and I was starting to wonder if I'd found the perfect vehicle for our ever-expanding family.
Unlike other SUVs I've driven, there was great visibility out of the rear windows (I love the reversing video), and it felt really stable on the road. Unlike my husband (who, when it comes to cars, is hard to please), I was impressed with its handling, and the smooth ride gave me a sense that I was almost flying. Having said this, I had to constantly check my speed as it was deceptive due to the height and smoothness of the ride.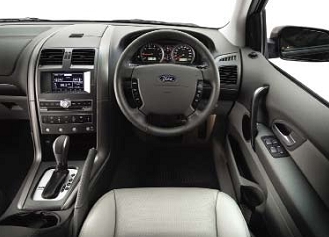 The centre dashboard console consists of an informative colour display which allows ample control of air conditioning, stereo, and trip/engine information. The stereo left me wanting more, with a disappointing tinny sound, even after tweaking the EQ, and it refused to play any of my MP3 CDs.
There are quality latches behind both rows of rear seats for child seats and restraints. It's as if this car was designed with a family in mind, as there are seven full-size seats, and access to the rear seats is made easy by flipping the foremost seat forward by pulling a latch at the top. The upholstery is made of durable material, which looked like it would put up with the messiest of little fngers and bottoms.
Did I mention the reversing camera? What a fantastic idea! Why didn't they invent this ingenious device long, long ago? It's invaluable for giving you advance warning of any children or pets that might just happen to be playing out of the driver's field of vision behind the car.
The most brilliant feature, which complements the reversing camera, is the reversing sensors. These give you an audio and visual alert on the console when you are in close proximity to an object you wish to avoid reversing into. The only problem is that they forgot to put them on the front of the car.
Lastly, I have to compliment Ford on their ability to make the most of the boot space. Even with the collapsible rear seats up, there was ample space for a large chilly bin, stroller, and a few bags of shopping!
The Ford Territory Ghia has set the benchmark high, and my husband and I would recommend this to any growing family.
Royce and Angela Pedersen are parents of two daughters, Ella and Eva. Angela is OHbaby!'s Managing Director and Publisher of OHbaby! Magazine.
AS FEATURED IN ISSUE 3 OF OHbaby! MAGAZINE. CHECK OUT OTHER ARTICLES IN THIS ISSUE BELOW