Latest Fitness Technology
What does the latest technology have to offer mums of young children who want to exercise but can't get out of the house? Ruth Brown investigates. 
Outside it's wet and cold but inside we're pumping. Well, the kids watch entranced or confused while I'm stripped down to T-shirt and shorts and slightly groaning on my second sets of lunges but Dominique on the telly screen is relentless. "Come on, stay with me," she hollers, "Squeeze and hold!"
Sporting razor-sharp cheekbones and a skeletal frame, her empathising with my aching legs rings hollow: "My thighs are burning — I'm right there with you!" she claims, smirking. Yeah, right. But I like her hard-edged New York style and she's promising a "bikini body". I'm still waiting.
But I have started making inroads into the 10kg I gained after having children.
As a working mum there's not much time for exercise and too few childcare hours to justify nipping to the gym for an hour or two. But I've found the perfect solution — exercise DVDs at home. The only trouble is those DVDs are disappearing from the market, Whitcoulls no longer stocks them and The Warehouse stock is dwindling fast.
Customers are moving away from DVDs in general, says a spokeswoman for The Warehouse, predicting Youtube and apps are winning in the fitness at home market.
So I'm on a journey — a journey through the latest technology in a bid to find my former slimmer self. If the world can produce smart phones, smart TVs and remotes for everything, surely there's a way to streamline access to a few press-ups and lunges to make it easier for mums of preschoolers? 
When technology gets in the way
Like the Nintendo Wii, the Xbox 360 Kinect is designed to be a personal trainer at home — you find a hot spot on the carpet and a computer generated trainer takes you through routines, hauling you up if he thinks you're not putting in enough effort. It sounds good and when it actually works it's not bad. You can even see a shadow of yourself performing the moves. Unfortunately annoying technological quirks let it down. It has voice recognition, but no, didn't respond to swearing.
The Xbox would be fine if you had lots of time and patience to get it working properly. And if having individualised programmes is important to you definitely check it out. It'll cost you though, RRP$399 for the package.
After quitting Xbox in frustration I went back to Leslie Sansone — she's one of my favourite DVD "ladies" – I like her country hoe-down style and her routines are among the easiest, being all based around walking a mile in 12 minutes. I picture her living out in the Midwest, encouraging rotund mums of six to hit the floor. Yes, ladies, it's just one ol' foot in front of the other and, then "What just happened? You just did a mile!"
Her high-wattage beam and non-stop chatter will cheer up the darkest of days. 
Free for all
So the search continues. On the internet, of course, many of the exercise routines are free but you need to hunt for them. I found POPSUGAR Fitness which offers a smorgasboard of diet tips, sports bras and exercises.
These include how to do squats properly and a 10-minute bikini boot camp with Jeanette Jenkins, trainer to such stars as Pink and Kelly Rowlands. How lucky is that? They look great.
And Jeanette goes hard out, I felt tired just watching. I'm sure if you did that everyday you'd soon trim down. But something was lacking. Where were the dance beats and ambience? Jeanette looked as if she was thigh-pumping in someone's '80s-decorated lounge. 
Online personal trainer
Of course, online options don't just mean ready-made, one-size-fits-all sessions. Anna Mabey, in Otaki, has jumped on the digital bandwagon, offering online personal training at personaltrainme.co.nz. It's perfectly tailored to mums of young children. Anna was one herself when she realised there was a demand for such a service.
The key element is individual fitness programmes and support from Anna. It costs $97 a month and you start off with an introductory session on Skype plus a calendar with your own exercise programme.
It's all based on how much time you have, says Anna, if you can exercise only 12 minutes a day then that's how your programme will be designed. Anna is pleased to say she now has 30 committed clients and the numbers are building.
Fitness sessions may mean walking one day, and strength-based exercises the next with rounds of reverse lunges, squats and shoulder presses. Each exercise is accompanied by a little video of how to do it properly.
And there's no skipping. Anna will know if you haven't logged your exercises for the day and she'll want to know why! 
Get it on your iPad
Being a modern girl, I like to think, and armed with an iPad, my search would not have been complete without a trawl through the App Store. So I went searching for fitness apps and found FitnessBuilder, which, oh joy!, brought forth a luxurious torrent of toning and trimming sessions.
It costs $13.99 a month or $94.99 a year but that gives you hundreds of full-length fitness videos and they are slick, professional presentations by buffly competent presenters. It can be streamed on your iPad, airPlayed on Apple TV or accessed on the web.
So, is this what's replacing the humble DVD? If so, I'm not surprised, it is great! And an online poll at ohbaby.co.nz shows other mums agree. The majority (38%) are now using apps on their iPads for exercise at home, closely followed by Youtube users (36%) while DVD users made up only 20%.
So it's goodbye for now, Dominique and Leslie, catch ya on the worldwide web. 
Get some stuff and get cracking
How much gear do you need? In reality, not much unless you're going the whole nine yards with Pilates or yoga. But it is so nice to have some funky fitness clothing to get you in the mood.
For strength training and floor work you might also need hand weights but don't go crazy. Are you really up for 20 lunges with 5kg in each hand? Also, you might want a nice, spongy mat so you don't feel as if your spine is grinding into the floor when you're doing crunches.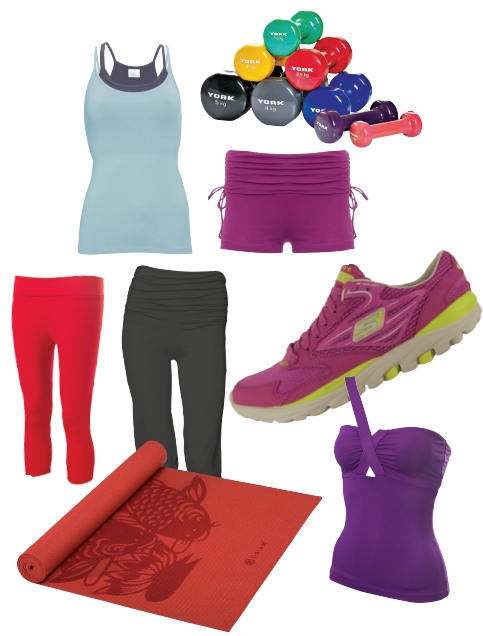 Wellicious Double Tank in aqua and pebble grey $105
Wellicious Flexi Waistband Shorts in raspberry $105
Oscar Mimosa Tyra Yoga Tights in red $105
Wellicious three-quarter pants in pebble grey $120 and Oscar Mimosa Luxury Singlet in purple $130, all from myescape.co.nz
Skechers Go Run trainers in pink RRP$159.90, skechers.co.nz
Gaiam Yoga Mat (Koi Fish) $34.99, atlanticsports.co.nz
York Dumbbells (vinyl tipped), various sizes, Rebel Sport
Ruth Brown enjoys full-on cardio workouts at home but avoids floor-work because lying down makes her daughters jump on her for a bout of wrestling.
Published February, 2014 
Photography: Main Images supplies by Gaiam.
AS FEATURED IN ISSUE 23 OF OHbaby! MAGAZINE. CHECK OUT OTHER ARTICLES IN THIS ISSUE BELOW