Family holiday in blissful Bali
Victoria Dickinson and her young family find their happy place during a three-week holiday in Indonesia.

Vivid sunsets, stunning subtropical gardens, fresh healthy cuisine, friendly locals, rich culture and total relaxation. This is just a snippet of what Bali offers. I truly rate it as a safe and enjoyable family holiday destination.
Bali has certainly changed a lot since I visited ten years ago. The effect of tourism – positive and negative – was apparent in each area we visited. However, this time round, accompanied by my husband Laban and our two boys, Art and Woodrow, my previous concerns about sanitation standards, ice cubes and 'Bali belly' attacks, dissipated. You can build an itinerary to suit any budget and objective, be it intrepid travel, ultimate relaxation or somewhere in between. We found it well worth the nine-hour flight and the time-zone adjustment.
Our main objective for this holiday was to switch off, relax and connect as a family. We had decided to split our three weeks between several places; Seminyak, Uluwatu, Canggu and the island of Nusa Lembongan. This allowed us to settle into each location before packing up and enduring the chaotic traffic en-route to our next destination. 
When considering our accommodation options, we weighed up the benefits of villas and resorts, and came to the conclusion that villas ticked more boxes for us. They offered value, privacy and space, and a home-away-from-home for the boys. We booked most of our accommodation using Airbnb, and then communicated directly with the villa managers to arrange pool fence installation, transfers, and also groceries to have on hand upon our arrival.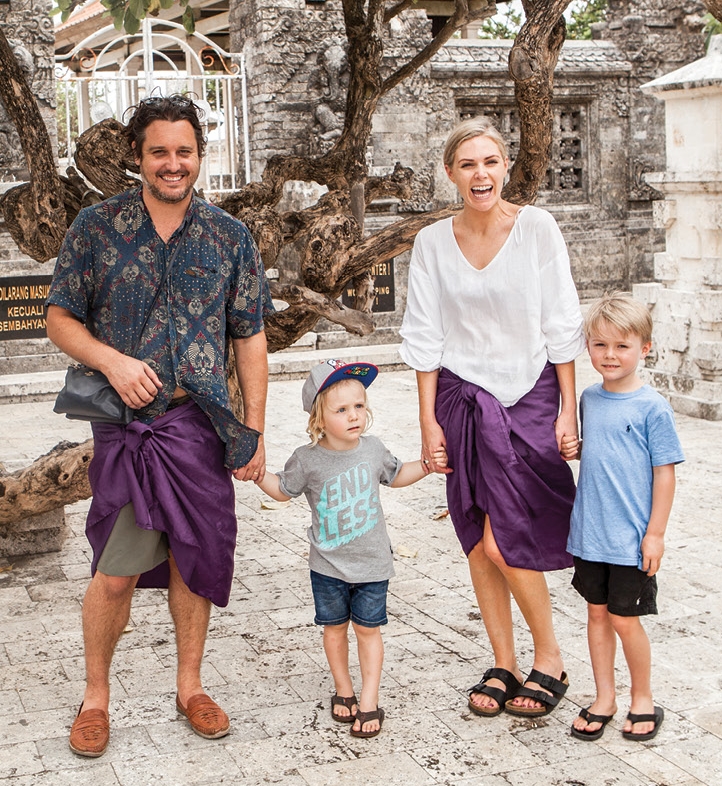 SEMINYAK
After touching down in Denpasar, we met our driver and began a two-hour journey through the notorious Bali traffic to our first villa in Seminyak. Upon arrival, the boys went straight into the temporarily (and tastefully) fenced pool, while I scoped out the villa for other potential hazards and escape routes for Woody, our youngest.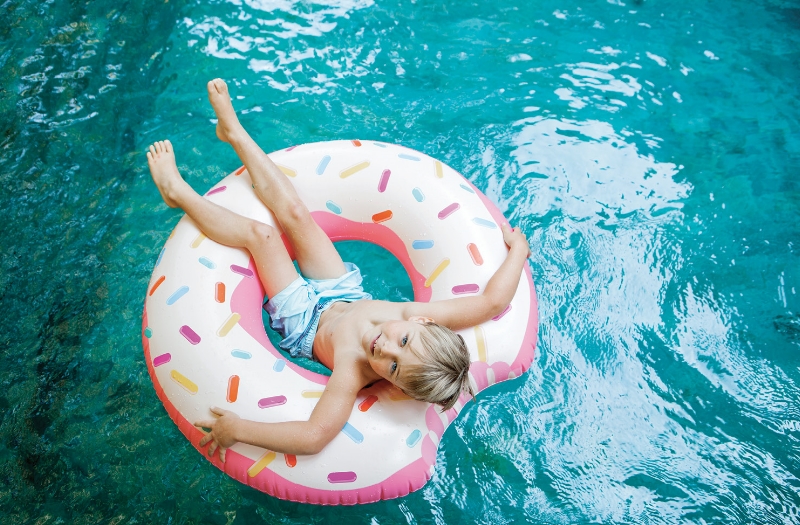 After a few days and, thanks to the time zone shift, some disturbingly early wake-ups, we began to fall into a loose daily pattern. We would have breakfast prepared by the lovely villa staff, Laban or I would head out in search of (strong) coffee, then we'd sunblock the boys and by 8.30am they'd be in the pool. Art and Woody alternated between eating and swimming until late morning, when we'd head out together to explore the area and find somewhere for lunch – the food options were endless.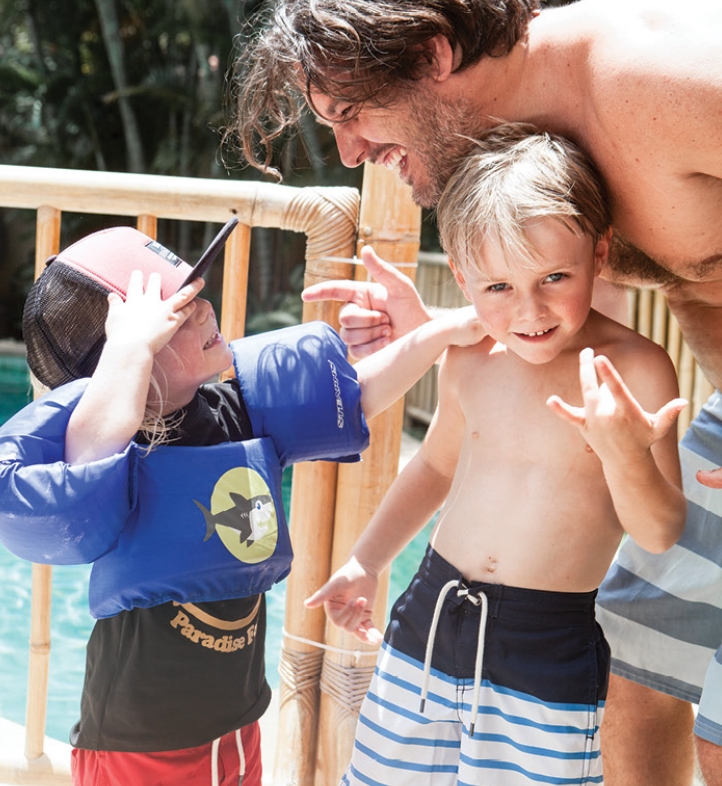 In the afternoons we'd relax back at the villa, swimming, reading books, lying in the sun and sipping cold drinks while deciding where to go to say goodbye to the sun, and to have dinner. Luxurious, I know! Some nights, the boys were exhausted and in bed by 6.30pm, so we'd head home after sunset and have dinner delivered to the villa, or have a sitter come while we popped out for a quick date night.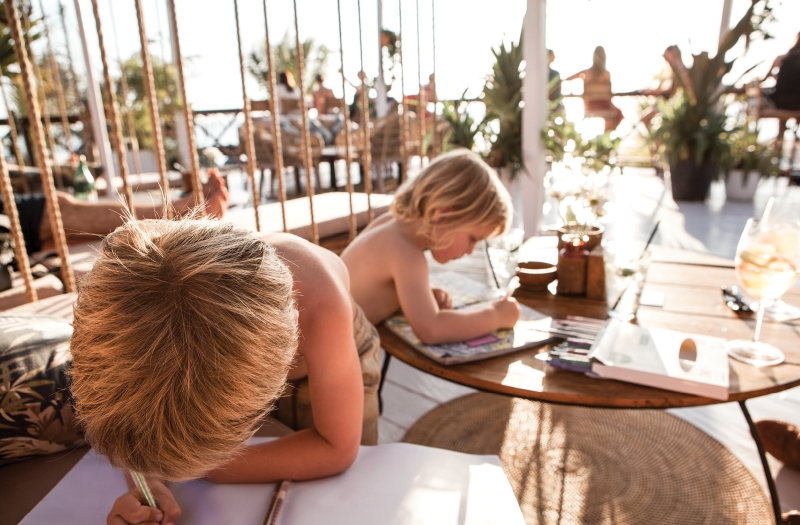 ULUWATU
After four nights in Seminyak, we moved up to Uluwatu, and shared a villa with friends for a few nights. Peaceful Uluwatu offered a refreshing change of pace, a contrast to the colourful chaos of Seminyak. Surfers on scooters, relaxed cafés and beach clubs, and mischievous monkeys were common features. While our husbands surfed, my friend and I relaxed with the children on Padang Padang beach, or poolside at the villa, enjoying a book (and maybe a cold Bintang). At twenty dollars an hour, we also enjoyed occasional poolside massages.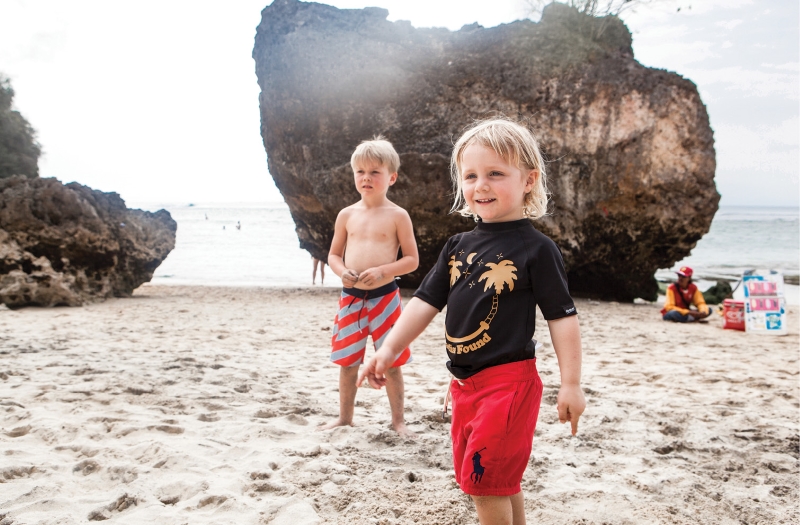 We visited Monkey Temple, which was entertaining and picturesque, and tried some of the local cafés and cliff-top spots for sundowners with the kids. Sometimes the kids behaved like angels, but at other times like hot, tired toddlers. It's hit and miss with kids, but we allowed ourselves to be judged – at times, very openly – and occasionally handed out digital devices to ensure a peaceful sunset experience for everyone.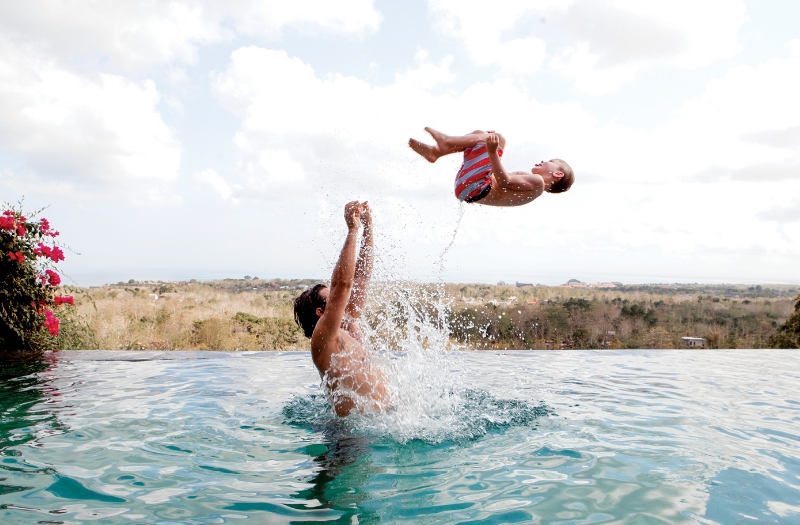 CANGGU
Canggu was our next home for a week, and again, it offered a different feel to the previous locations. We were especially keen to explore, given it barely existed the last time we visited, so to see it bustling with tourists, markets and restaurants was mind-blowing. While our days were repetitive, the variety of dining options and beach clubs created different experiences and kept things interesting. 
We loved our daily routine of reading books in the sun and watching the kids do bombs off the side of the pool, and Laban loved wandering down for a surf to start each day. We celebrated Woody's third birthday with a pool party at the villa and enjoyed a Mexican lunch in the cabana, courtesy of the amazing food delivery app in Bali, Go-Jek. Most people explore Canggu on scooters, however with young kids and little riding confidence, we flagged down taxis at the end of our driveway to get around. Five dollars – or even two dollars, depending on our negotiation skills – got us anywhere we wanted to go in the area, and for sixty dollars we were able to hire a driver for a full day to take us further afield.
NUSA LEMBONGAN
Our final destination was an island 45 minutes off the coast of Sanur. After enduring a stiflingly hot and sweaty boat ride (while trying to ignore a man throwing up into a shopping bag), we were welcomed by the white sands and turquoise waters of Nusa Lembongan.
The villa team met us on the beach, as promised, and escorted us to our villa. The 120 stairs we climbed in 30-degree heat were all worth it when we walked through the gates to Villa Bersantai. We had rented a two-bedroom villa with a gorgeous infinity pool – chemical free, which was a bonus – overlooking the main surf breaks. Laban was in heaven.
We felt we'd saved the best for last with this place. There were no roads nearby, so it was peaceful and private. We spent most of our time at the villa with the boys, venturing out occasionally for food or to visit one of the beach clubs or beaches.
A true highlight of the holiday was seeing our son Art snorkel for the first time! We hired a boat for eighty dollars for several hours, and the captain took us to a lovely sheltered spot with thousands of colourful fish. Both boys were on a total high. Woody yelled "I am so excited!" the whole way there. Art is still talking about it weeks later, so I like to think that was money well spent.
ABSOULTELY PRICELESS
After three weeks of sunshine and relaxation, we flew home to reality. Hand on heart, this was the most relaxing holiday we've ever shared with the children, and worth every dollar. It was a break for my family, but also for me. It sounds selfish to say, but often when we go away, I'm still rolling out the daily routine of making beds, preparing food and doing laundry. It's always nice to be in a new setting, but it's not always a true holiday. Having our meals prepared, our house cleaned daily, the washing done and the beds made, for the first time since becoming a mother, I truly relaxed. I actually read books again, and better still, I was able to connect with my boys completely without distraction. 
Take me back already. 
HANDY TO HAVE
★  Baby monitor. The bedrooms can be far apart in villas, and even though my kids are older, the monitor gave me peace of mind, and helped the babysitters too.
★  Puddle Jumper (a flotation device). We purchased this from smartmarine.co.nz. Hands down the best thing we purchased for this trip!
★  Swimming nappies. I forgot ours, and was unable to find them anywhere. Thankfully, Woody was pretty much toilet trained and didn't need them, but for younger children you'll want them, especially if you're staying at a resort or visiting beach clubs with pools.
★  Books and activities. Most restaurants and beach clubs had no colouring activities for kids, so we took along a range to keep the boys entertained. They were also helpful during downtime between swims at the villa.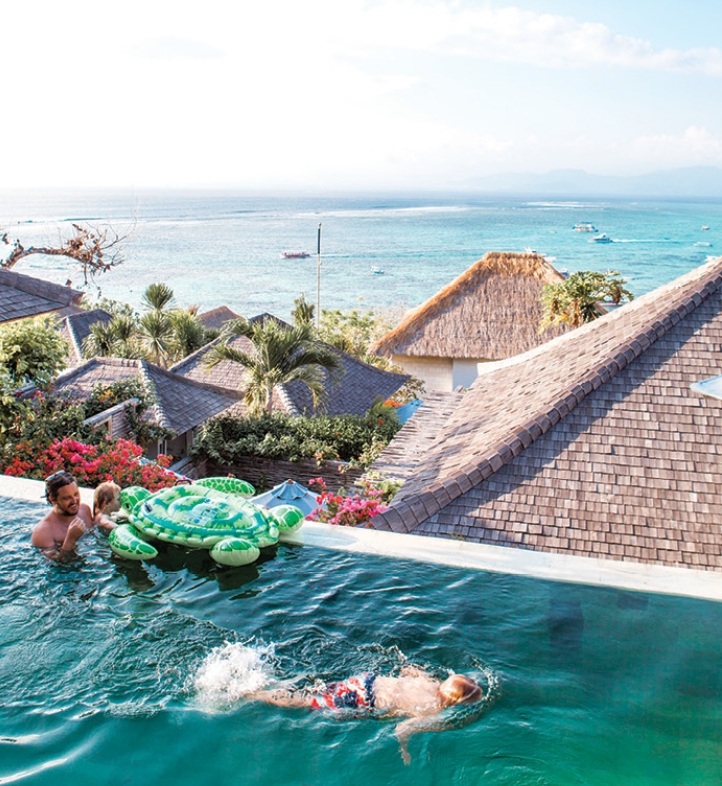 COVERING THE BASICS
Accommodation
Airbnb, ministryofvillas.com and booking.com were our go-to websites for finding the best deal and villa to suit our 
needs. Given the amount of time we stayed in the villas, we found it was worthwhile spending more on our accommodation, and saving on food and spending money when there. For villas with pools, you can usually arrange pool fences through the villa staff. Make sure to request the bamboo fence (the metal ones look like a cage!) and check the gate latch is high; Woody could open some of the gates we had.
Medical
Medical care is great in Bali, as long as you have remembered to arrange travel insurance. I made 
a note where the nearest medical clinics were in relation to our accommodation, and which ones our insurer recognised. This was very useful information to know when I sliced my foot on a shell!
Dining out & beach clubs 
The food was all delicious and there are too many places to list! We found it helped to research our destination before we jumped in a taxi – wandering the roads with hungry, hot children isn't ideal. We used thehoneycombers.com/bali/ for most of our research. Standout places were: 
★ Seminyak: The Shelter & Sisterfields Café
★ Uluwatu: Drifters Café
★ Canggu: Fish Bone Local, Ji Terrace, La Brisa, 
★ The Lawn, Ulekan, Milk & Madu
★ Nusa Lembongan: Ohana's Beach Lounge 
Victoria Dickinson juggles life as a mother, business manager, and founder and general manager of charity Warming Hearts NZ – which provides clothing and essentials for babies in need – while also trying to sneak in date nights with her husband!
Photography: Victoria & Laban Dickinson
AS FEATURED IN ISSUE 44 OF OHbaby! MAGAZINE. CHECK OUT OTHER ARTICLES IN THIS ISSUE BELOW