Fiji Family Holiday
Taste of the tropics
Danielle Wright introduces her children to the South Pacific on a family trip to Fiji taste of the tropics.
 "Bool-AH!" says my four-year-old daughter, gleefully high-fiving men in skirts with bare chests, as we dodge golf carts trundling along the narrow tracks between rooms at the Fiji Beach Resort and Spa in Denarau.
   "BOOOL-ah... again!" they tease her. 
     Young children are such a part of life for Fijians that even the most tough-looking men melt when children approach. From the moment we entered the Fiji Airways plane and the kids spotted passengers with bright flowers in their hair and garlands made of Fruit Burst lollies, they knew they were in for something special.

Village life
The first day of any holiday is always a good time to see the local culture, particularly so in Fiji. You don't want your family to get the impression that it's all just expensive yachts, resorts and smiling faces offering necklaces made of shells.
     After an hour's drive over bumpy roads to a small town called Sigatoka, we're met by Finna from Coastal Inland Tours. He takes us on a boat cruise up Nahigatoka River — about 20 minutes each way.
     Fishermen perch in trees as we're told about the produce from the region known as the salad bowl of Fiji. We spot a horse on the sand bank and many Fijians fishing with mosquito nets attached to sticks.
     "[In the old days] a rider on a horse would head into town to tell the villagers the whitebait is in," says Finna. "Now they use mobile phones and people arrive in minutes."
     The Fijian way of life is very communal — no one would keep to themselves the fact that the whitebait were running, and they'd share the feast with everyone in the village.
     After the river boat trip, we're taken to a nearby school, one of the only primary schools with its own computer room and library. Having to sing a special song for tourists every once in a while seems a small price to pay for the extra resources.
     The children beam with happiness, just like their teachers, giving loud "bula" greetings before retreating into giggles and shyness. The lessons are written very neatly on the blackboards and there's rugby practice on the fields.
     Afterwards, we head back into the village for lunch, coconut preparation demonstrations, dancing and kava. It's a busy day for the kids, who take it all in with wide eyes, later remembering more than I expected.

Resort living
Back at the Fiji Beach Resort and Spa, we're treated to dinner on the beach after dark (the sun sets early at around 6pm). Mud crabs and chilled red wine (it's hot), and for the kids: Vonu in a Pond — a large chocolate turtle next to a tub of red jelly and cream.
     Our children spend their time building sandcastles in between courses, while my husband and I enjoy a rare chance to talk. It's a lot more relaxing than trying to rush through dinner indoors before the kids get restless.
     The next morning, we take to the pool where there are dozens of blow-up beach toys for the kids to play with — orcas, palm trees, even what looks like a long Buzzy Bee. They could happily play in this pool for the whole week and, with an "adults only" pool nearby, we never feel we have to tell them to stop splashing or having fun.
     To wind down, they are treated to side-by-side facials in the spa. Our four year old has a quizzical expression on her face during her treatment, but our seven year old likes it so much he falls asleep.
     The Kids Club nearby has many relaxed Fijian nannies on hand if you need a break for a stroll along the beach or a private dinner. They also do a complimentary kids' buffet, which includes spaghetti, chips, chicken, sponge cake and chocolate brownies.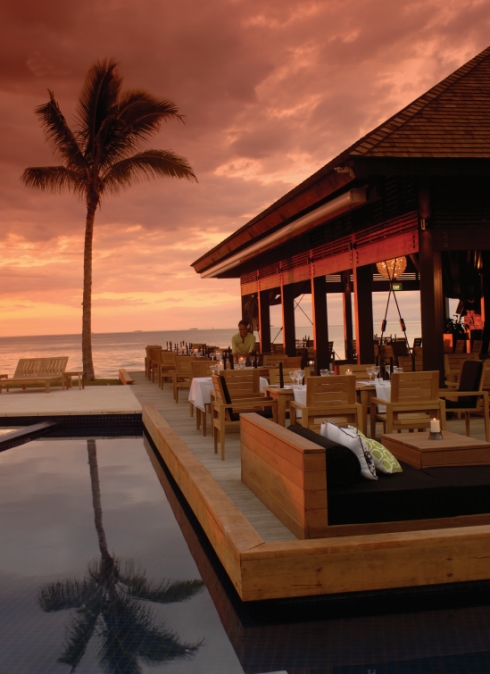 Island life
On a spectacular sunny day we leave Port Denarau to head out to one of more than 300 surrounding islands. The Yasawa Flyer Catamaran drops off tourists at South Sea Island, and we're grateful to see Vomo Island with its central volcanic Mt Vomo as a point of difference to the flatter islands, which look as if one large wave could cover them.
     Vomo Island was once the retreat of the chiefs of western Fiji and it doesn't disappoint if you're looking for luxury baches on the beach with five-star dining, as well as a laid-back atmosphere and plenty to do. That includes glass-bottomed kayaks to look at all the beautiful soft coral and bright blue starfish, stand-up paddle boards to circle the island, a small golf course (watch the palm trees!), a turtle programme and a beautifully presented kids' club.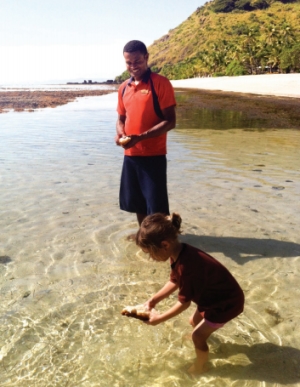 Fijians love their families and treat everyone's children on the island resort as their own. Waitresses pick up babies and take them for walks around the restaurant, leaving the parents to dine in peace, and the kids' club is ready for activities, dress-ups, cooking lessons and afternoon movies for a break from the heat of the sun.
     Spending time on Vomo Island is a different experience to a Denarau resort. The sand is whiter, the reef more colourful and the level of relaxation unbelievable. But the downside is that there's only one pool and you have to eat all meals in the same restaurant — albeit the most delicious food we experienced in Fiji, all beautifully presented and elegantly created.
     For me, the best thing about the trip was watching our children discover snorkelling, marvelling at what was under the sea, something they probably gave little thought to before the trip.
     Seeing them discover a passion was an amazing sight and as soon as we got home, the library books they took out were all about, you guessed it, what's under the sea.
     A holiday to Fiji is a good excuse to spend time together in the sun, but it's also educational on so many levels. The cultural differences gave rise to many interesting conversations and back home, the kids were the talk of their friends with gifts of key rings and shell necklaces.

Holiday tips
There's free Wi-Fi in hotel rooms in most of the Fiji resorts so electronic toys for the kids are worth bringing. Buckets and spades are also a good idea.
My seven-year-old son kept a diary each day of the trip, starting with what he thought Fiji might look like. My daughter created a picture diary with lots of rainbow oceans and coconut trees. They will have these to look back on.


Check with the hotel first to save the hassle of bringing bulky baby items such as buggies and bikes. Many hotels have everything you need on hand.


Tipping is "not expected, but nice". The tips go into a communal pot to be distributed just before Christmas. Locals are grateful for gifts to further a child's education, such as books, clothing and shoes. Often the kids have to walk a long way to school and goods in Fiji are often cheaply made, so not up to the job.


This is one destination you want to go to during the school holidays — at other times the kids' clubs don't run their programmes to the same degree.


I'm not a budget airline traveller but I loved Fiji Airways. It was friendly, spotlessly clean and had good in-flight entertainment for the whole family — just pack a lunchbox for your children, the food is not kid-friendly.


Tourist Transport Fiji was fantastic and taxied us around, all the while offering helpful information about the area as well as going out of their way to stop to show you things of interest and encourage you to shop locally to avoid resort prices.


The Yasawa Flyer Catamaran takes you to the islands, Prices: adults $121 and children $61 each way. Go to ssc.com.fj.


For busy resort accommodation, Fiji Beach Resort and Spa managed by the Hilton, is perfect for families. For more information go to fijibeachresortbyhilton.com.


For more intimate island accommodation, try Vomo Island Resort. Rates start at $1250 per night for a Garden Villa, based on two people per night and including many extras such as all meals. Go to vomofiji.com.


For a burst of culture, don't miss the Sigatoka River Cruise by Coastal Inland Tours, priced from $115 per person. Info at coastalinlandtours.com.
Dani Wright is a travel writer and creator of award-winning nursery rhyme books as part of her website itsasmallworld.co.nz. She has two children with one on the way and likes nothing better than to travel with her family and show them the world. She travelled with assistance from Fiji Tourism
Photography: Danielle Wright, Fiji Beach Resort and Spa, Vomo Island Resort.