Luxurious Queenstown
Luxurious Queenstown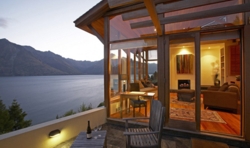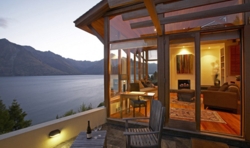 Scenic Matakauri
This was the luxury journey to end all luxury trips: staying at at four of the best resorts in New Zealand - three of them judged among the best hideaway spots in the world. 
The assignment: Six days and seven nights to enjoy Matakauri, Blanket Bay, Eichardt's, and Millbrook, all located in and around picturesque Queenstown. 
My wife Chrissy and I land at the Adventure Capital of the world at 5pm and threw ourselves at the mercy of the warm and sincere staff at Matakauri Lodge, one of the top 101 hotels of the world according to Tatler magazine.
General manager Grant Alley and his staff were first rate. Our room had a stunning view - we were in heaven. We even received a little Kiwi fluffy soft toy as a go-away present.
Next day, we went on a romantic cruise to Walter Peak on the 96-year old ferry the Earnslaw, known as the "Lady of the Lake". In the afternoon, we took a helicopter ride around the glaciers and dazzling white mountaintops with Heliworks. Our pilot, Steve Scott, was a fantastic guy. Heliworks has been involved in filming Peter Jackson's movies, and another of their pilots, Alfie Speight, is big in the Kiwi film industry.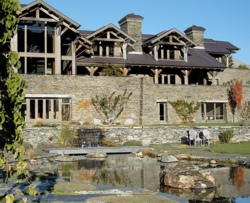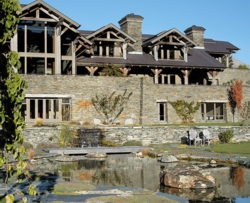 Beautiful Blanket Bay
We then sought sanctuary back at Matakauri, among the tui, native frogs and lakeside setting. The next morning, we trundled around the lake to Blanket Bay, twice rated by Harper's as one of the two most romantic hideaways in the world.
Blanket Bay is a place every couple who can save $1500 once in their life should go to spend a night at. It is the grandest lodge ever. I loved the heavily texture wood: Massive grey weathered supports and fine furniture pieces with burnished rich patina. Philip Jenkins was a brilliant general manager with a superb dry wit. The local staff were excellent. Unlike some lodges, Philip insisted there was no dress code. 
Their games room was a blokesy den with a free bar. Before tea, I did a 30 minute jog through the bush and then around the shore edge of the lake back to the hotel. Like running in paradise. My seared grouper meal and Amisfield pinot noir made me feel even better. 
Next day we drove back to Queenstown, where I spend the night at Eichardt's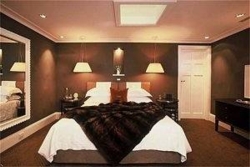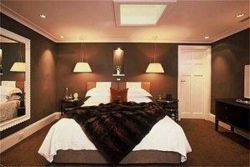 Gorgeous Suite #2 at Eichardt's
- judged the best small hotel in the world three or four years ago. My suite, room No 2, is possible the best appointed I have ever stayed in. Victoria, Charlotte, Catherine, and all the Eichardt's staff could not have been more caring and helpful. Their service is second to none. They became like friends. The massive possum-fur rug on my bed was an utterly romantic touch.
I went out for dinner on the Steamer Wharf at the Wai, which, according to Cafe magazine, is one of the best restaurants in New Zealand. I can see why! I melted on the line caught grouper - flown in especially for Wai from Fiordland. And all washed down by a stunning glass of Mt Difficulty riesling.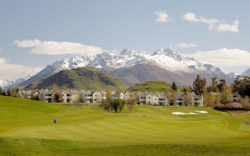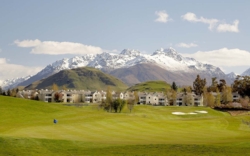 Picturesque Millbrook
The next day we headed to the expansive lodge and golf resort of Millbrook. We loved the painting in my villa lounge - because behind it is the secret flat-screen TV! My steam infusion spa was so relaxing and invigorating, thanks to the wonderful therapist Minaxie Daya. Sarah Stacey looked after me superbly, and I so want to return to Millbrook. There is so much to see in these parts with wineries, rides, bungy jumps, skiing. I'll have to come back next year.
Kip Brook was New Zealand Press Association's London Bureau Chief Correspondent until 2001. He has won three NZ journalist of the year awards; runs national media company Word of Mouth Media NZ -  see
www.wordofmouthnz.com
. 
Getting there: