Sydney exposed
A quick trip to Sydney for business, a spot of shopping, and some sightseeing. The 5,202 naked people encountered were not a scheduled feature on the itinerary.
You don't hop across the ditch expecting that after spending a mere four days in Sydney, you'll swear you've never seen so many naked people in your life. I saw approximately 5,202 nude bodies - one the first day, none the second day (thank goodness), one the third day, and a whopping 5,200 on the last day, just a few hours before staggering, half-blind and speechless, onto my flight back to safe, covered-up Auckland.
The purpose of the weekend was dual  - work and play. Our managing director Angela Pedersen and myself, accompanied by her then-eight-month-old son Jesse, had booked tickets to the Sydney Kids in Style trade show, where importers and retailers across Australasia convene to show off what's new in children's clothing, furniture, and accessories. While we were there, we decided we'd visit a few Australian clients, and do a bit of sightseeing. And boy, did we ever see the sights.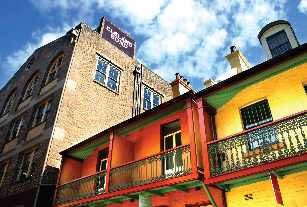 We arrived in Sydney on an unassuming Friday, picking up our rental car at the airport and plunging car-first into the insanity of Sydney city traffic. Our home base for the weekend was Quay West Suites Sydney (www.mirvachotels.com), located in the historic The Rocks precinct adjacent to Sydney Harbour and Circular Quay. Our two-bedroom suite was the perfect size for two mums and a baby, with a sitting room and kitchen, laundry, and room service (a blessing when you've been out all day and don't have the energy  to face a restaurant for dinner). The hotel also boasted a spa, sauna, gym, and swimming pool.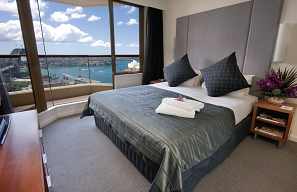 Our sitting room had an amazing view of Sydney Harbour, with the Opera House to our right and the Sydney Harbour Bridge to our left. At night, the lights from the bridge sparkled on the water, and the Opera House was illuminated, a glowing beacon. I felt like I'd stepped into a postcard.
Our first day was business as usual, attending Kids in Style, navigating Sydney in a rental car with a very dodgy GPS, and visiting clients in the Surry Hills area. Late in the afternoon, we returned our car to the hotel and walked down to George Street, the main shopping street in downtown Sydney. The Queen Victoria Building (www.qvb.com.au) was our destination. Completed in 1898, it replaced the original Sydney markets and served as a monument to the long-reigning monarch. The QVB features beautiful architecture, charming exhibitions, and over 160 stores and cafes spread over five floors. Of particular note are The Cupcake Bakery (www.thecupcakebakery.com.au) on level 1, Little Voice (www.littlevoice.com.au),  a luscious children's store on level 2, and The Metropolitan Museum of Art Store (www.themetstore.com.au) on level 2, with treasures and souvenirs from the famous New York art gallery.
We headed back to the hotel and ordered in room service before heading off for bed. And that's when I was first exposed to the naked side of Sydney. As I was closing the drapes to my bedroom, I happened to glance across at the hotel next door, straight into the well-lit room of a middle-aged man who was standing at his window completely nude, gazing across the glittering harbour. I yanked the curtains shut and vowed not to open them again for the rest of the weekend.
After a few client catch-ups first thing on Saturday morning, we headed to The Rocks Markets (www.therocks.com), which runs from 10am to 5pm on weekends at Playfair and George Streets. This a must if you're staying in the area. After gorging ourselves on gourmet pastries, we headed across to the Museum of Contemporary Art (www.mca.com.au), situated on the Sydney Harbour foreshore at West Circular Quay. Admission is free, and it was a thrill to view some original Keith Haring and Andy Warhol paintings in the JW Power Collection.
Next stop was the Sydney Opera House (www.sydneyoperahouse.com). A variety of daily tours are available, and you can even go backstage for the princely sum of $155, which includes breakfast in the Green Room. Bookings are essential and you must wear flat, enclosed, soled shoes, so don't rock up in your flip-flops.
There are a number of atmospheric restaurants, bars, and trendy cafés at the Opera House, and the Sidewalk Café (www.sidewalktheatrebars.com.au) was the perfect location for an alfresco lunch. The views were stunning and it was hard to believe we were only a few hours from Auckland, sitting outside a culturally significant World Heritage Site. We could even see our hotel in the near-distance, beckoning us home for an early evening. True to my word, I kept the drapes of my bedroom closed lest my eyes be offended by a second view of my naked neighbour.
Our third day in Sydney proved to be the most adventurous, as we decided to make our way to Ikea Homebush Bay Drive (www.ikea.com.au), that mecca of inexpensive and über-cool homewares. Unfortunately, our dodgy GPS failed us at the beginning of the journey. Never mind, we said, brandishing directions copied from the internet. How hard could it be?
After driving for what seemed like hours, we eventually determined we were lost. We aren't quite sure how we managed to end up at the Westfeld Bondi Junction (www.westfeld.com.au/bondijunction), where we clearly needed to stop for a couple of hours' browsing before continuing to our original destination (Ikea is open until 7pm on the weekends and 9pm on weekdays, so we weren't in a huge hurry). I'm not sure why malls are always better overseas, but the hours we spent in David Jones and Myer were well worth it. The selection of kids' clothing in Australia is amazing!
Lunch was needed before getting back on the road. We chose a café and sat down to wait. And then my second experience of "indecent exposure" occurred, in the form of the extremely handsome waiter who came to take our order. As he flashed a knee-weakening grin and turned to get our drinks, I found my eyes level with his bottom - his bare bottom, that is. About four inches of it. The poor guy's shorts - and undershorts, it appeared - were in need of a belt, and his shirt had ridden up his back, leaving his assets on view for all to see. Lest I be accused of ogling, I quickly elbowed Angela and forced her to look too. Then, of course, neither of us could make eye contact with our waiter for the remainder of our lunch. We gobbled our food hastily and got out of there as fast as we could, giggling like schoolgirls.
Armed with a map book from Borders, we set off, this time on the right road to Ikea. The parking situation was a bit of a nightmare, as Ikea is located at Rhodes Shopping Centre (www.rhodesshoppingcentre.com.au), and we drove around the underground carpark for half-an-hour before we found a spot to park.
I could write a whole other story about Ikea, I love it so much. We were there for hours. We bought so much, we had to pay for excess baggage on the flight home. Enough said.
The Monday we were to leave I was awakened way too early by an insistent rapping on my bedroom door. It was Angela, up at some ungodly hour, insisting that I come out into the sitting room immediately. "You've got to see this!" she hissed. "There are thousands of naked people at the Opera House!"
Stumbling in the half-dark toward the sitting room windows, I couldn't believe what I was seeing. A massive crowd of people - 5,200 of them, completely and utterly in the buff - were sitting, standing, laying down, embracing, and posing on the steps of the Opera House, sometimes in unison, sometimes simply milling around as if waiting to be told what to do. It was fascinating. We switched on the news to find out what was going on - did a group of Sydneysiders convene every Monday morning for a quick bit of naked conversation and a coffee? No, it was an artistic endeavour, as they were posing for photographs by the famous photographer Spencer Tunick, known for his images of crowds of nude people in public places. I had a hard time tearing my eyes away from the scene outside my window, except to shift my attention to the TV news, which was presented live by what appeared to be a naked reporter. Those Aussies. They'll get their kit off for anything, even on TV.
Getting dressed and packed for the airport an hour later, I risked a peek out of my bedroom window. My neighbour's window was curtained and dark. He was probably down at the Opera House, with the waiter from the café.