Toddling through Tokyo
Does the thought of long-haul travel with a toddler fill you with fear? Our former editor and husband took their toddler to Tokyo for a week - and lived to tell the tale! Here's how they survived.  
When most parents contemplate long-haul travel, they envision it taking place when their children are old enough to sit quietly for the duration of the light, headphones clamped firmly in place, devouring all the in-light movies they can manage to prop their eyelids open for. As a childless 20-something, I remember gazing at the parents of babies on long-haul flights with a mixture of sympathy and horror. "How dare they ruin the flight for the rest of us?" I'd think, self-righteously, as I witnessed the mother of 10-month-old twins frantically trying to keep them buckled into their seats while their father snored, oblivious, across the aisle. 
     No stranger to long-haul flying, I've developed strategies over the years to get through Customs more quickly, help stave off jet lag, and make it through duty-free without buying alcohol for all of the friends who asked me to "just pick up a bottle of Absolut for me on your way in, eh?" But add a toddler to the mix and the entire game changes.
     So when my daughter was just under two-and-a-half, my husband and I made the brave decision to take her to Tokyo for a week. "How bad could it be?" we asked each other, somewhat naïvely. And perhaps our naïveté was a good thing, because despite my hastily quashed premonitions of Toddlerzilla Wreaking Havoc on Airplane, it was actually heaps of fun.  The most important things to remember are to be realistic, keep things manageable, and go with the flow.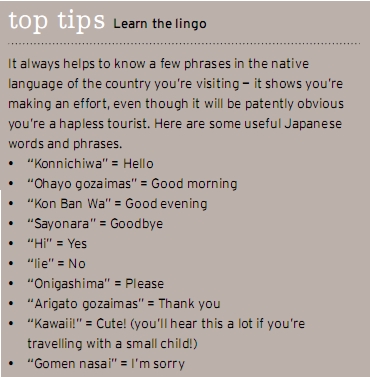 Day 1: Arrival, Hiro and Roppongi
Ah, Tokyo. Fashion capital of the East, home of anime, and originator of Gwen Stefani's "Harajuku girl" style. Our first port of call was, obviously, the airport, where Immigration and Customs were navigated with ease because we had a secret weapon: A toddler in a stroller. Strollers can magically part crowds at Narita Airport, and we were smilingly sent to the heads of the queues. Once we'd collected our luggage, we went to find the Airport Limousine to take us into the city. Narita is located more than an hour from the centre of Tokyo, so you need to sort out your transportation ahead of time, as a taxi can cost upwards of NZ$200 - yet the Airport Limousine, which is a clean, air-conditioned coach that services all of the major tourist hotels in Tokyo, cost only ¥3500 per adult (about NZ$47). The booking counter is located directly across from the door where travellers exit from Immigration and Customs, and the pick-up area is just outside, with clearly marked signs in English and Japanese.
     During the hour-long ride to our hotel, we got to see some of the major tourist attractions of Tokyo, including Tokyo Tower, a red-and-white replica of the Eiffel Tower plunked smack in the middle of the city. We also passed Tokyo Disneyland, which we'd planned to visit in a few days' time - it was surreal seeing the Cinderella Castle in the midst of skyscrapers. Our daughter slept the whole time while I stared like a tourist and reminded my husband, over and over, of all the things I wanted to do.
     Our first two nights were spent with friends in Hiro, a posh area that reminded me of Remuera - Japanese-style, with luxury apartments and fancy boutiques. On our first night, my husband travelled by taxi with friends to Roppongi, a fantastic tourist area known for its bars and nightclubs. I stayed behind in the hotel room and played with the buttons on the toilet before accidentally calling the concierge and then falling into bed. Our daughter went with Daddy to dinner, where she reportedly fell asleep at the table. Ah, nothing like a tired toddler on your first night in a foreign country!
Day 2: Harajuku
We didn't manage to get a lie-in, as jet lag had already reared its tousled head in the form of one toddler, who woke at 5am, Japanese time. Fortunately, her father and I were awake too, so we all decided to get up and have a leisurely breakfast. We dressed and walked down to the main street, where we found breakfast from a convenience store - not as budget as you'd think, as you can pretty much get a gourmet meal from the Japanese equivalent of the local dairy. We headed back to the hotel with our food to watch Japanese children's TV, which was great fun for our daughter in particular.
     After breakfast, it was time to do our first bit of sightseeing, so we took a taxi to Harajuku. On the weekends, teenagers and young adults who are dressed like those girls in Gwen Stefani videos congregate in Yoyogi-Koen and hang out together, and the rest of us can't help but stare. The girls looked like dolls who'd escaped from Tim Burton movies, and the guys… Well, my favourite was a group of teenagers with slicked-back hair and leather jackets who looked like extras from Grease.  It was eye-opening.
     We walked up the main street of Harajuku, which is full of luxury boutiques the likes of which don't exist in New Zealand. Our destination, however, was somewhat less luxurious: Kiddyland, a seven-story toy store I'd read about online and decided we had to visit. There's a whole floor of Snoopy-themed stuff, and Hello Kitty as far as the eye could see. After Kiddyland, we stopped in at the Oriental Bazaar, a famous tourist mecca where you can get all the traditional souvenirs you'd ever want  - yukata, fans, lacquerware, and even traditional furniture (if you have the dosh to ship it home).
     Our last stop was Meiji Jingu Shrine, an oasis of calm just on the other side of the busy Harajuku train station. There, we were lucky enough to witness two traditional Shinto wedding parties (it must have been an auspicious day to get married).  The shrine was almost deserted as it was drizzling a little bit, and the atmosphere of peace was really refreshing. We bought a wooden tablet for ¥500 and wrote prayers on it, then hung it from a tree where there were thousands of other tablets like ours. The monks pray for the intentions of pilgrims to the shrine, and it felt very powerful to leave our prayers there as well.
     The side streets of Harajuku are filled with interesting shops and eateries - we recommend them if you want a real Japanese meal. Taxi is an easy way to get around if you're staying close by, but the train goes directly to Harajuku as well. As for transporting a toddler, we ended up leaving the stroller in our room and carrying our daughter in a sling I fashioned from my pashmina shawl - good exercise, but it gets tiring toting around a 15kg toddler. I'd recommend taking the stroller everywhere in Tokyo, which is what we did from then on.

Day 3: Shimbashi and Ginza
On the third day, it was time to say goodbye to our friends and shift to our accommodation for the rest of the week, the Dai-Ichi Hotel in Shimbashi, right around the corner from Ginza. As we'd been pretty adventurous in Harajuku the day before, we were quite tired, so we took a taxi to the hotel and decided to spend the day close by, to try to help our daughter to get into a better nap routine. We dropped our luggage off and headed to Chuo-dori, the main street of Ginza, for a spot of shopping.
     Ginza is another super-posh area of flash boutiques and department stores that make the shops of Queen Street in Auckland look like a bargain basement. It's an amazing place to window-shop and people-watch, too. We easily navigated the sidewalks with our pram, although it was very crowded for a weekday. On the weekends, the whole street is closed off to traffic and the street becomes a pedestrian area where the pace is relaxed and friendly.
      We first went to Hakuhinkan Toy Park, another massive toy store where we spent at least an hour before escaping with a bulging bag of cool Japanese toys. Next we visited a few of the department stores, where the main attraction of each was the floors devoted entirely to food. I'd never seen anything like it - imagine the Food Show, except twice as big and on every day. Next was Itoya, a gigantic stationery store selling the most beautiful washi (paper) imaginable. I spent $200 on matching paper, envelopes, stickers, and embellishments, and vowed to write letters every day for the rest of my life, except when I got home, I realised the paper I got is much too beautiful to actually use. 
     After stopping back at one of the department stores to pick up some dinner, we turned in early at the hotel.

Day 4: Tokyo Disneyland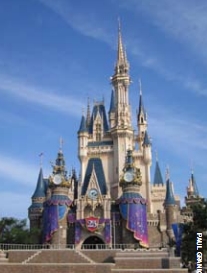 Our hotel was right next to Shimbashi Station, so we took the Yamanote Line to Tokyo Station, changed to the Keiyo Line, and went to Maihama Station. It was quite funny - once we got on the Keiyo Line, the crowds of businesspeople slowly thinned and the train filled up with tourists and parents of small children who, like us, were headed to one place: Tokyo Disneyland.
Tokyo Disneyland is actually two parks: Disneyland and Disney Sea. There's no way you can do both parks in one day, so we decided to save Disney Sea for another visit. I'd never been to a Disney theme park before, but was quickly sucked into the pervading happiness of the place. It was clean, and well-managed, and all of the staff - they call them "cast members" - were super-friendly. The thing that most impressed me was that it was so pram-accessible. There was a special parents' area with changing stations and a feeding room, and when we wanted to go on a ride where we couldn't take the pram, we simply left it at the ride's entrance, along with everyone else's prams - and while we were riding, someone from the park would come along a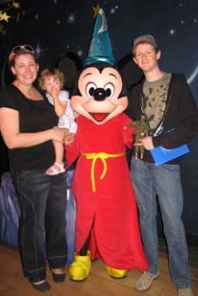 nd line up all the prams in an orderly fashion so they were easy to find when we exited. It was fantastic. Our daughter loved "It's a Small World", and made it through the semi-scary "Pirates of the Caribbean" ride too.  She also went on the carousel  a few times, and met a couple of princesses - although I admit I found Belle's glassy-eyed, unblinking stare to be somewhat unnerving. The highlight of the day was meeting Mickey Mouse, and by the time the Electric Light Parade rolled around after dark, we were almost Disneyed out. Our daughter slept the whole train ride back to the hotel.

Day 5: Mitaka
We're adventurous folk, so our primary mode of transportation in Tokyo was the train. While the thought of taking public transport in a non-English-speaking country is quite scary to most travellers, we found it to be the easiest method of getting around. Most of the subway maps are in English as well as Japanese, and when purchasing tickets, there is an option on the ticket machine to translate to English so you can complete the entire transaction in a language you can understand. The trains are clean, on time, and reasonably pram-accessible. Most of the train stations in Tokyo seem to be in the process of upgrading, and there were elevators to make getting up and down easier, although we did have to go on some scavenger hunts to find them in certain stations. There were times when we had to fold up the pram and just take the stairs. In general, though, once we'd taken the train a few times, it became very simple to use.
     Our fifth day in Tokyo we decided to go a bit further afield and visit a famous anime museum, the Ghibli Museum in Mitaka. We took the Yamanote Line to Tokyo Station, then changed to the Marunouchi Line to Mitaka Station. From Mitaka Station it's an easy 15-minute walk to the museum, or there's a free shuttle from the train station - but it was a nice day, so we walked. If you're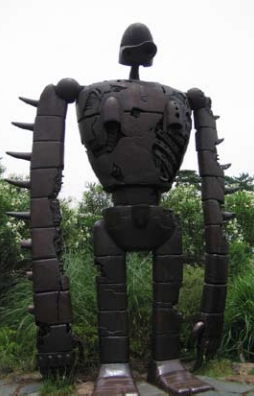 planning to visit, please note that you have to purchase tickets in advance. You can do this through a travel agent or at any of the many Lawson's convenience stores around the city.
     The Ghibli Museum is dedicated to the work of Hayao Miyazaki and Studio Ghibli, known for such anime masterpieces as Spirited Away and Howl's Moving Castle. A must-see for anyone with children, the museum is whimsically designed and heaps of fun. There's even a giant Catbus from My Neighbor Totoro for children to climb on, and a casting of a robot from Laputa: Castle in the Sky in the rooftop garden that's reached by way of a spiral staircase. They have a great bookstore where we picked up several children's books, including a Japanese version of The Very Hungry Caterpillar. After spending a couple of hours there, we went back to our hotel for an afternoon nap, then got dinner in Ginza again before crashing.

Day 6: Asakusa and Kappabashi
Asakusa was an easy trip from Shimbashi Station on the Asakusa Line right to Asakusa Station. We had two destinations in mind: Sensoji Temple in Asakusa and fake food in Kappabashi.
     Sensoji Temple was very different from Meiji Jingu in Harajuku. It was noisy, crowded, and had a festive feel, where Meiji Jingu was quiet and encouraged contemplation. To get to the temple, you head down Nakamise-dori, a street of tourist trinkets and bargain buys. I picked up a gorgeous handbag for US$50 ("For you, half off!" cried the overzealous vendor) and we couldn't resist a beagle- sized yukata (our dog hates us). There were neat souveneirs everywhere, and my husband kept having to hurry me up after I'd got too entranced by something sparkly or "kawaii" (cute).
     At Sensoji, we bought some incense sticks to place in the urn outside - the locals believe that if you breathe in the smoke from the incense, you'll be granted good health - and made our way up to the temple proper, where we ritually cleansed our hands and mouths and prayed with the other pilgrims and tourists alike. The atmosphere was electric, and even our daughter was drowned out by the constant chatter of other visitors. We had planned to take a rickshaw to Kappabashi-dori, the kitchenware and fake food area, but I felt uncomfortable at the idea of another human pulling me around in a cart, so we walked.
     Kappabashi is a street of restaurant and kitchen supplies - if you want a dining room full of Japanese dinnerware, this is the place to visit. My aim at going there was to see the fake food. There are whole stores of pretend cakes, fruits, vegetables, noodles, sushi… And they look incredibly realistic. I wanted to bring home a slice of faux strawberry shortcake, but it cost ¥9000 - just for one piece! I settled for taking pictures instead, and fell asleep that night dreaming of cabinets full of pretend meals.

Day 7: Futako-tamagawa
My husband grew up in Tokyo, and part of the reason for our trip was for him to visit old haunts and see friends. So Futako-tamagawa was on our agenda for a relaxed day of walking down memory lane, seeing the building where his family lived and the school he'd attended. We took the Yamanote Line to Shibuya Station, then changed to the Tokyu Den-en-toshi line to Futako-
tamagawa. The neighbourhood is up-and-coming and, according to Japanese friends, it's where a lot of the Japanese TV stars and movie actors are moving with their families. There was also a fabulous department store, Takashimaya, where we spent an hour in the bookstore loading up on children's books for our daughter and sewing books for me.
     On the way back to the hotel, we decided to stop at Shibuya, which has the most famous crosswalk in the world - whenever you see movies featuring Tokyo, you invariably see an aerial view of a massive crosswalk with thousands of people crossing the street at once. Shibuya is also famous for its statue of Hachiko, the dog who used to follow his master to the train station every morning to see him off to work, then go there every evening to meet him. One day,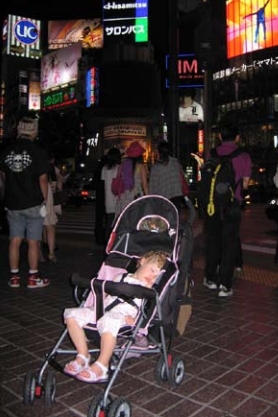 Hachiko's master suffered a heart attack and died before getting home, and every day for the decade following his master's death, Hachiko continued waiting at the train station, morning and evening. I only caught a glimpse of Hachiko's statue as it was surrounded by people - it's a popular meeting place - and then we headed to Shibuya Mark City, a nearby shopping centre, for dinner, where I had the best tonkatsu of my life at a restaurant called Ton Katsu Wako. And we got a great photo of our daughter  snoozing in her pram at Shibuya Intersection, with tens of thousands of people milling around her.

Day 8: Departure
After breakfasting at a local bookstore/café, we did some last-minute
shopping in Ginza before packing and checking out of the hotel. The Airport Limousine came to pick us up right from the hotel, and it was off to Narita Airport for our flight. The airport is full of trendy shops and boutiques for great duty-free souvenir shopping, and there is even a children's play area where we waited for almost an hour while our daughter got some of her wiggles out of her system before boarding the plane. It was quite sad saying "Sayonara!" to Tokyo, but as we settled our daughter into her seat for a long sleep, we reflected that the trip was much more fun than we had originally thought it would be. Travelling with a toddler through Tokyo is deinitely  do-able, and we're already planning a return visit - we didn't get to go to  the Imperial Gardens, or Akihabara (a great place to buy cheap electronics), and there's still Disney Sea to do… Next time, we might need to stay for a month, not just a week!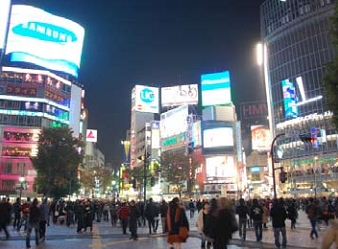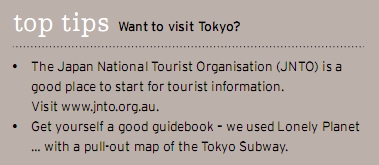 Katherine Granich is the former Editor of OHbaby! Magazine and has no qualms about taking her toddler on long-haul lights, because sitting in the bulkhead row means you can't see the passengers behind you glaring. She would love to return to Japan, as the shopping was amazing and the food exquisite.
AS FEATURED IN ISSUE 3 OF OHbaby! MAGAZINE. CHECK OUT OTHER ARTICLES IN THIS ISSUE BELOW