Family: raising boys in rural bliss
The Burke family take a break from their demanding schedule of building businesses and raising sons to sit by the stream with Marianne Falconer and savour a moment or two of rural bliss. 
Hayden and Lucy Burke have packed a lot into their first seven years of marriage – from central Sydney to rural Aongatete in the Bay of Plenty, establishing two successful businesses, raising two boys and adopting a dog named Daisy. Drive, delegation and pragmatism have kept this family on track to chasing their dreams.
Photographer Alice and I arrived at the Burkes' home at 4pm (what were we thinking?) and witnessed first-hand the power of nature to soothe the soul and calm the child. We're not in the habit of doing family interviews and photoshoots during the witching hour, but the Burkes are busy people, so fitting into their schedule was paramount. It was the usual 4pm behaviour at play – nothing out of the ordinary – but as you can imagine, Dusty Kimber, aged two, and Mickey Memphis, almost five, were hardly in the mood for a family portrait!
We changed tact and moved the party outside. When we stepped out of the lounge and into the great outdoors, the change in mood was like night and day. From chaos to calm, the kids were now noticeably more at ease, so we ambled down a track to the creek. Yes, these boys have their very own river to explore, complete with a water hole for swimming. It's idyllic and I was already making a mental note to check TradeMe for rural properties to relocate my own family to.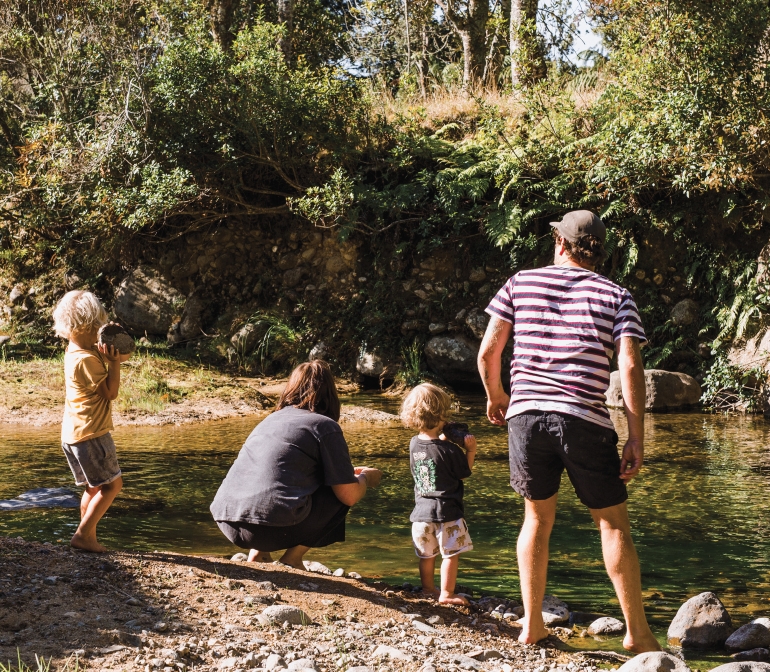 DEEP ROOTS
This is where we discover the depth of the Burke family's connection to this land. "My grandfather bought the block in 1976, so we're the third generation to live here" explains Hayden. "Hayden grew up on the same farm we now live on, so having that incredibly strong bond to the land is such a special experience for our children" adds Lucy.
Hayden, being a builder, converted the farm's old barn into a stunning family home. Complete with a modern kitchen and new bathroom, and fully re-clad in Lawson Cyprus, you'd be forgiven for thinking it's a new build – the perks of having a builder for a husband. The property is nestled in the foot of the Kaimai ranges and the alpine outlook is breathtaking.
While we sit by the river enjoying the sunshine and green space, we discover that Lucy and Hayden tied the knot at this very spot. Hayden reminisces, "My brother and sister-in-law got married here 10 years ago, and so did we, seven years ago. We love this place. We camp down here with the kids in the summer and we want to have monthly BBQs here with our extended family. It's a tradition that started when we were kids, and we'd like to carry that on for our own kids".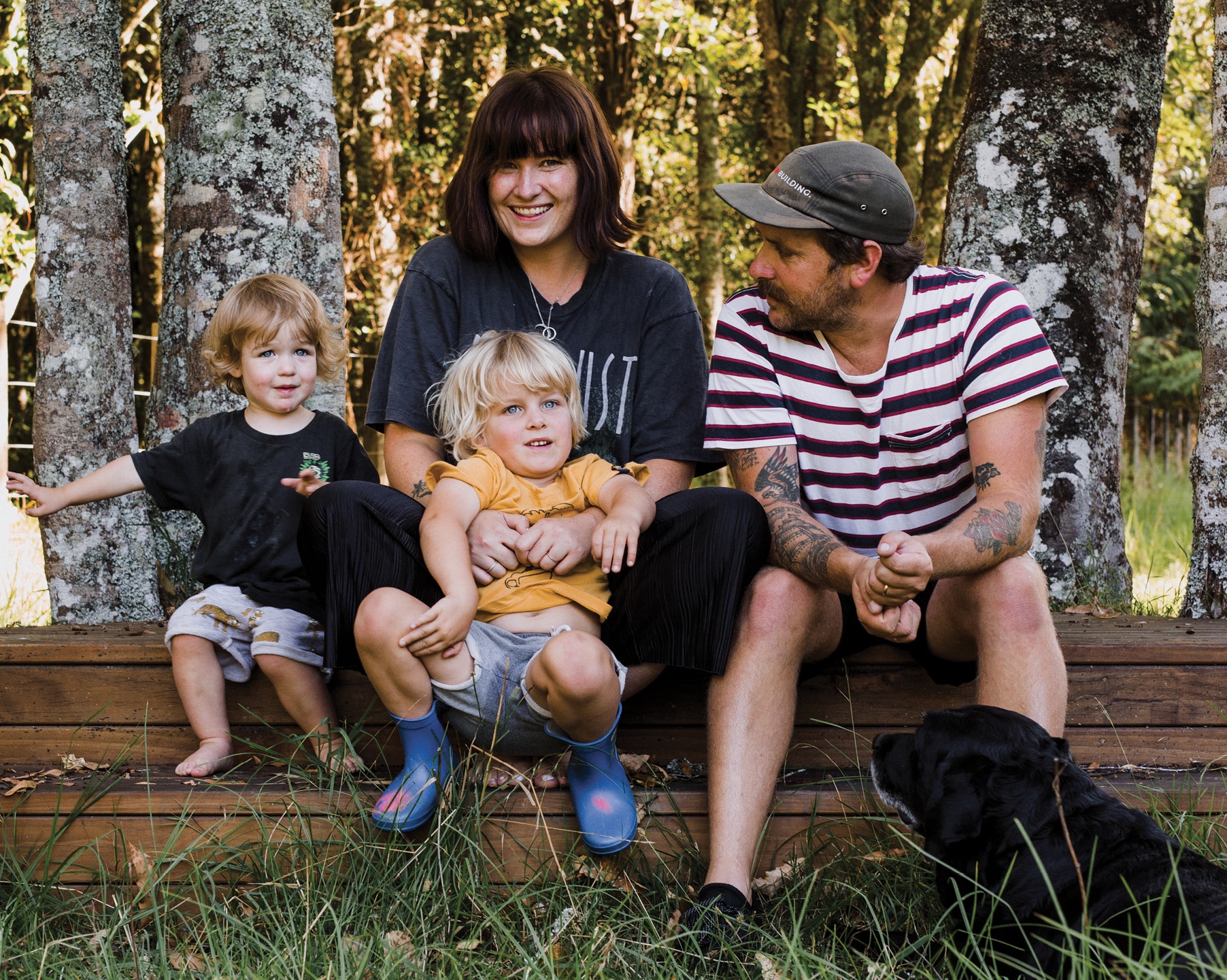 THE JUGGLE IS REAL
Ambitious is a good word to describe the Burkes. "We have always been a 'big ideas' couple. We take risks, work hard and couldn't live any other way!" says Lucy. Together they own two companies, Fenton Building – a high-end renovation building company, and LL Wedding and Event Hire – a North-Island-wide hire company specialising in modern furniture and marquees. "We have a very clear path for where we want to go with the businesses and clear goals we want to achieve. I think business is about constantly pushing the boundaries, ruffling some feathers and keeping ourselves on our toes.
The excitement and pressure keeps my tank full. I love the craziness of running my own business, and although it's filled with anxiety and nerves, I love being in that environment and strategically pushing myself to the next level" continues Lucy. "It is a juggle. We live rurally. Aongatete is approximately 35 minutes from our offices in Mount Maunganui, so Hayden and I alternate days between a 5am work start and taking our kids to preschool. Once the kids are dropped at preschool, my day is filled with working from the LL offices and warehouse: speaking directly with clients, working closely with our staff, and managing the logistics of the company." To avoid traffic, Hayden works late and arrives home around 7pm. That means Lucy does the dinner, bath and bed routine with the kids on her own. There is no resentment – it's refreshing to hear them take ownership for their decisions.
It's a busy lifestyle, but it's aligned to their values and they're not afraid to live it. Lucy admits that "It's not for everyone, but it's a dynamic that works well for our family". There's a real sense that Hayden and Lucy are a team and they don't operate in isolation. Their extended family are an integral part of how they win at life. "It takes a village to raise our kids. Between tag-teaming, preschool and our parents all taking turns to watch our kids, we make sure the boys feel loved, appreciated and safe while we build our companies" explains Lucy.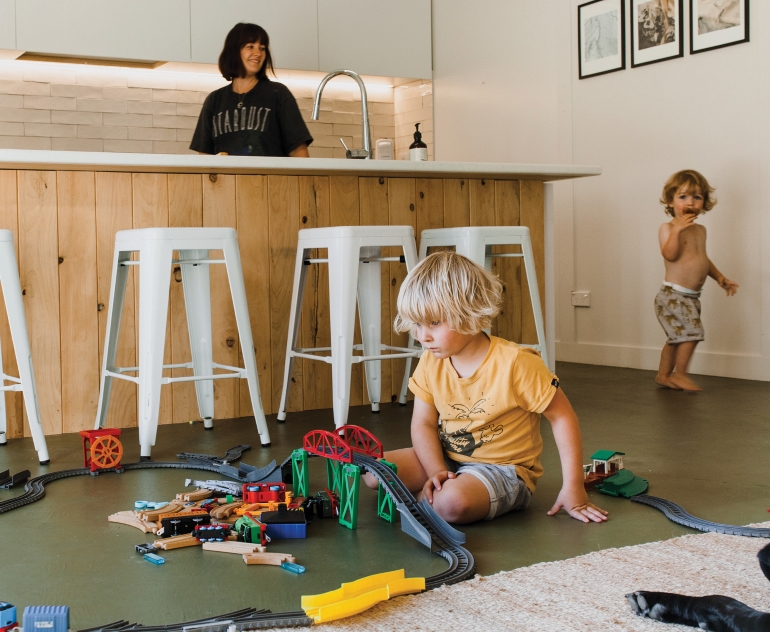 SURRENDER TO THE CHAOS
Lucy is a mum who is keeping it real and tells it how it is. She laughs at chaos. "Surrender to the fact that it's going to be a $#!@ show. Every day something is going to go wrong. I'll forget the swimming lessons or the shared lunch at preschool because I've got so much on my mind, but as long as you're focussed and you know the long-term plan, it's okay."
Social media can leave us mums feeling like we're falling short. Comparing ourselves to someone else's carefully curated Instagram feeds isn't wise. Lucy shares some sage advice:
"With social media, there's a lot of pressure for it all to be perfect. Life isn't easy – it's actually hard. Accept the chaos – parenting is messy".
"Breathe and roll with it. Each day something inevitably goes wrong, someone is upset or something doesn't work out in your favour, but take it, learn from it and move on. Tomorrow is a new day. It is never going to be easy, but if you want it bad enough, you can have it – it's just never easy!" continues Lucy.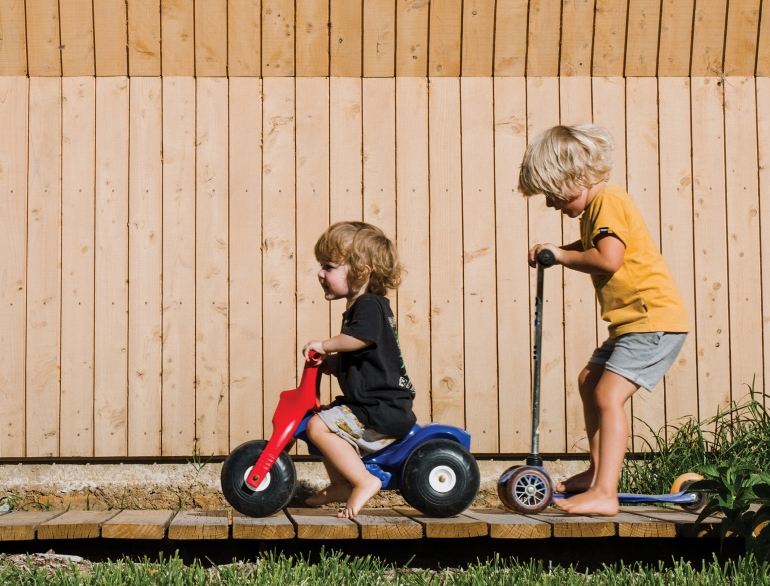 DELEGATION IS KEY
Self-awareness and delegating serve Lucy well. With Mickey's fifth birthday only days away, I asked if Lucy was making the cake and the response was an emphatic "No way". When I probed, Lucy shared another pearl of wisdom. "I learnt a long time ago to delegate. I'm really aware of what I'm good at and what I'm not. If I'm not good at something, I'll pay someone else to do it. I believe we thrive off being surrounded by people smarter than ourselves."
Delegation has also meant that, in the last six months, the family has got their weekends back, thanks to amazing staff who step in on the wedding business which involves a lot of after-hours work.
I got the sense Hayden and Lucy don't second-guess things. They make decisions and then set plans in motion. Their love story is an example of this. "I went on holiday to Sydney, and on my second-to-last night I met Hayden. Two weeks later he turned up on my doorstep (in New Zealand) and proposed" recalls Lucy.
Lucy moved to Sydney to be with Hayden and that's where their journey really began, with no indication of the rural life they'd later be living. On the quick proposal Hayden says "I just felt a connection". He may be a man of few words, but he knows when he's onto something good. Lucy makes up for Hayden's word count. "We're really different, that's probably why we work so well together", she explains. The couple clearly balance each other out and are united by their shared drive, ambition and desire to model a strong work ethic to their kids. "We want our kids to know they can achieve absolutely anything they set their minds to" says Lucy. While they work on two separate businesses, they consult each other all the time and make business decisions together. They're a powerful unit.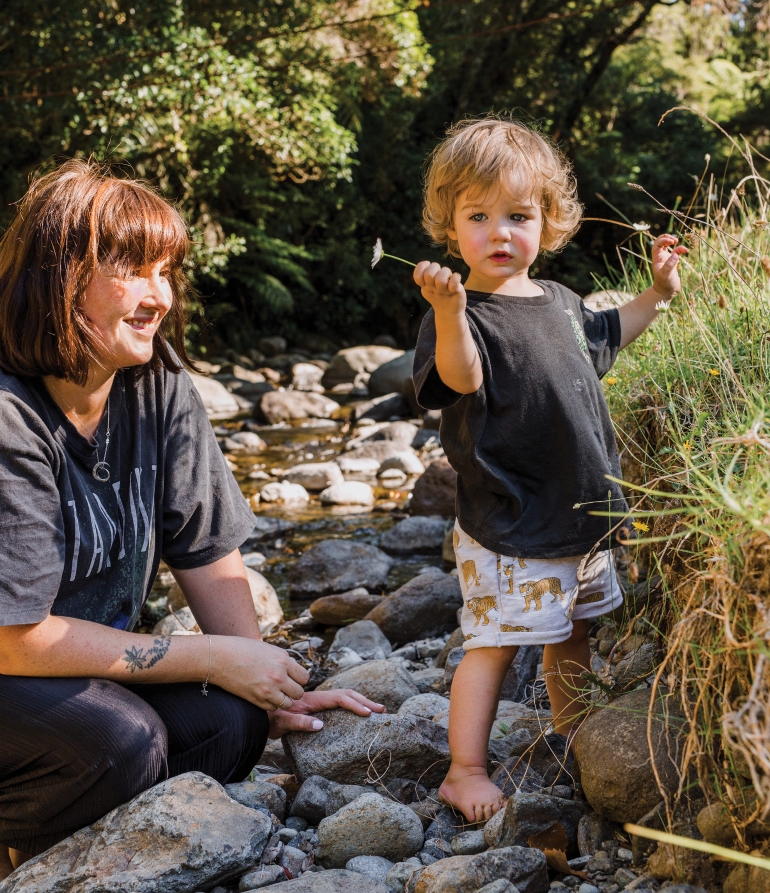 THE RURAL DREAM
Finding your 'forever home' can be as elusive as discovering a pot of gold at the end of the rainbow, but the Burkes have managed it. Lucy never dreamt of living rurally, she's originally from Auckland. Her former self could be found working in fashion and DJing at Auckland parties. From Auckland to Sydney to Tauranga, farm life was never on the cards. It just happened. "We may leave this house, but we'll never leave this property. We love it here" says Lucy.
Parenting is dynamic. It's not static but full of twists and turns. "I'm still learning how to parent my children. I have realised that they have very different personalities. Dusty is the charming one, the comedian. Mickey's a thinker and more emotional. We're always discovering new sides to them. For example, I didn't think Mickey was an 'outside kid', but now he's into motorbikes, bush walks and all that sort of stuff I didn't know about him. He thrives going out on the farm with his Pop." Lucy continues "We've seen a huge change in both boys' since moving here (from Mount Maunganui). Especially in their imaginations, which have been amplified by the outdoor space. They're less bored, and they behave better when surrounded by nature. That aspect of parenting is heaps nicer."
"I've realised that I need to speak to them both really differently to achieve the same result. They also have very different love languages and need attention in such different ways. Figuring that out has helped me parent so much better" says Lucy.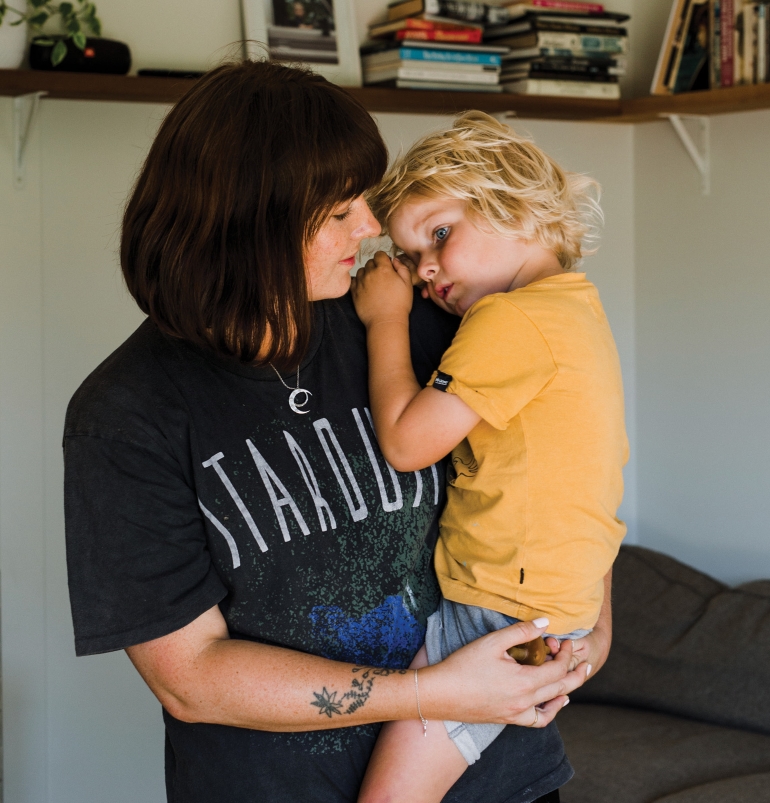 MUM GUILT: IS THERE A CURE?
"I feel guilt every day from not being able to be present with them all the time." Lucy isn't alone – 'mum guilt' is a modern-day phenomenon. "It's always going to be there. You'll always have mum guilt but it's about considering the bigger picture, what we're giving our children. We're instilling a work ethic. We've always made family life work with our two businesses because we love it. It was never an option to not work. We asked for help from our village. At the end of the day, I think the boys are better parented by five people, rather than just two. They gain a lot from all the people inputting into their lives." And it's with this healthy pragmatism and positive outlook that the Burkes are embracing family life and building for the future at the same time.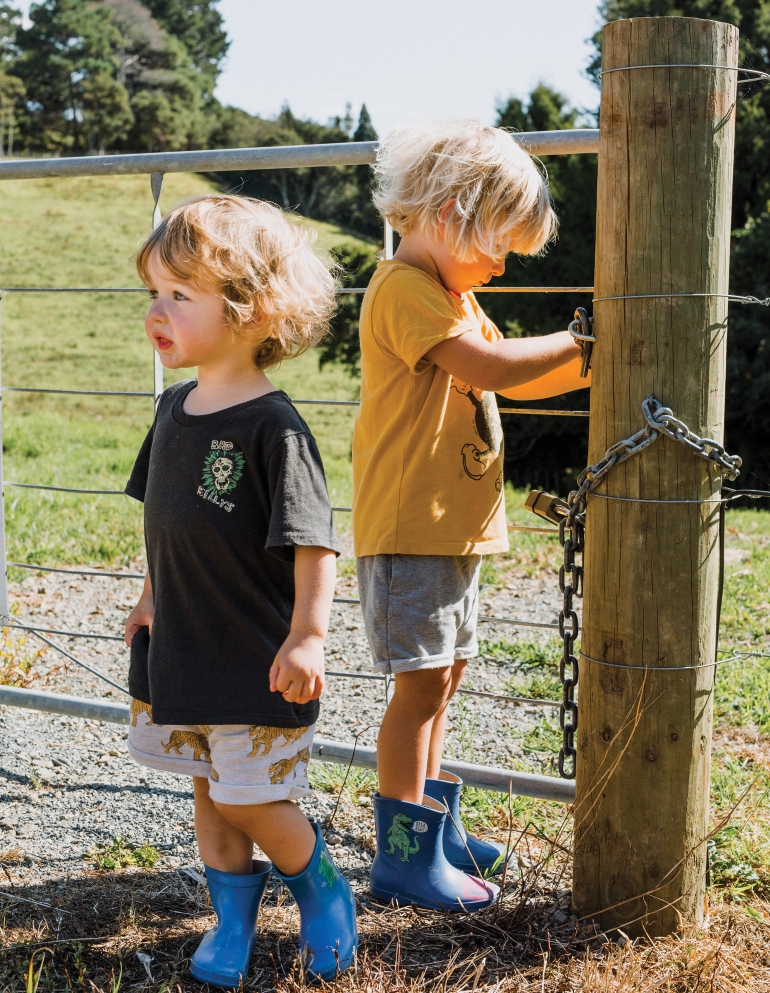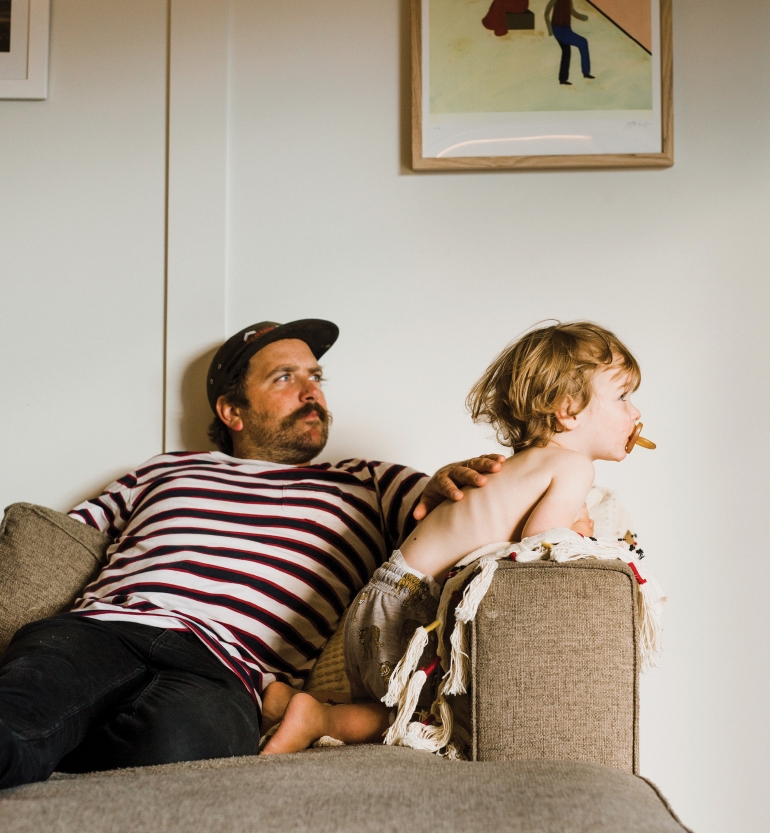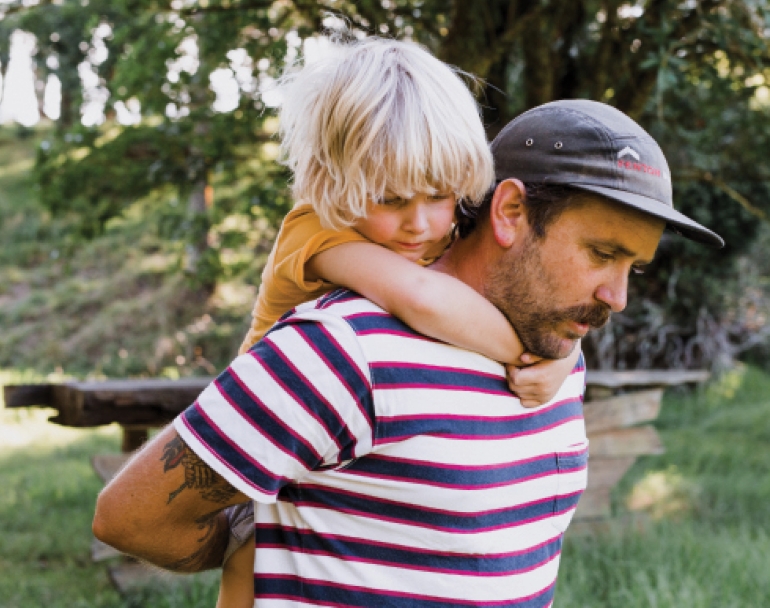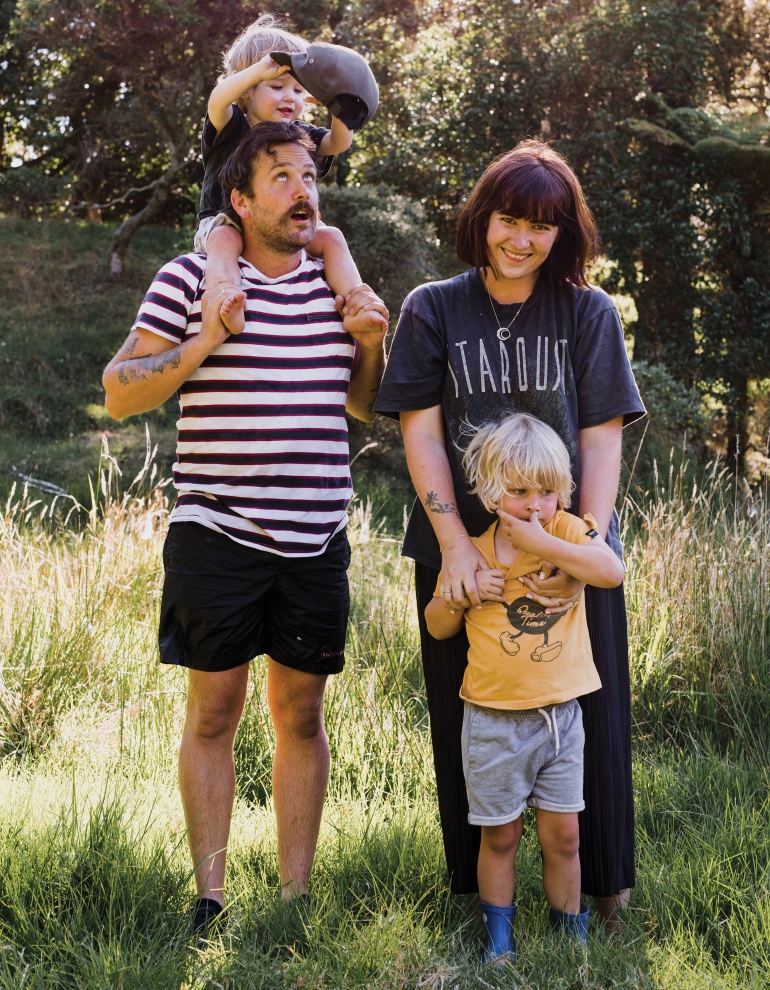 Photography: Alice Veysey, paperandpearl.co.nz
AS FEATURED IN ISSUE 45 OF OHbaby! MAGAZINE. CHECK OUT OTHER ARTICLES IN THIS ISSUE BELOW