20 reasons to love being a mum
Your introduction to motherhood marks a major turning point in your life. Rochelle Gillespie shares 20 reasons to love being someone's mummy.
1. I am woman! Hear me roar! Yes, childbirth is immensely painful, but one way or another that baby is coming out. The sheer physical experience of giving birth can be one of the most empowering experiences you ever have. Give your mind and body over to the experience, have faith that millions of other women around the world have done it too and you will be amazed at your own courage, ability and determination.
2. The gaze of a feeding baby when her tummy's full and she looks up lovingly as if to say, "Thanks Mum, that was yum."
3. Knowing that bits of you exist outside yourself. Yes, the baby you have given birth to is her own unique being but a good part of her DNA is thanks to you. She's a little bit of you, a little bit of her father, a little bit of her grandparents and a whole lot of wonderful.
4. Striving to become a good role model. The desire for your children to see you happily reading, learning or working is a powerful motivator. We all know that the best way for us to teach our children that exercise and healthy eating is good for their body and soul is to walk the talk. Becoming a mother has motivated me to lead a better life and strive every day to be the sort of woman my children will admire and respect.
5. People say the kindest things. When you're out and about with your little one you'll notice passers-by leaning over a little to have a wee peek inside the stroller. They'll smile. They might give you a wink. You may find yourself in conversation with this friendly stranger as they fuss over your baby. Babies are a uniting force - it's why politicians are always keen to get that baby-kissing photo opportunity. So, when someone tells you what a beautiful child you have, respond by saying, "Thanks - I think so too! But then I would say that wouldn't I?" Babies infuse us with optimism and joy, and it's a mother's privilege to be able to spread that love.
6. Being best friends. Until your child starts school you will be her number one playmate  - her first choice as someone to share a giggle, a game or a goody-goody-gumdrop ice cream with. So make sure you set aside time for play.
7. Reliving your childhood. Sharing a favourite book or toy from your own childhood with your children is a great joy. If you haven't visited the children's section in the library for decades, you'll find it a trip down memory lane as you spot titles you remember fondly from your own days in the children's corner. Take the nostalgia trip a step further, and share stories about when you were small  - the best holiday you had, your best-loved pet,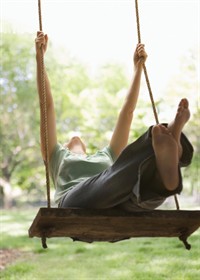 your favourite Christmas memory, the day you broke your arm!  This is the circle of love in action.
8. Swinging and spinning. You now have an excuse to go to the playground and swing to your heart's content. In fact, why stop there? Slide, spin, climb and crawl. Being a mother gives you full licence to experience the thrill of the playground all over again.
9. The day you get your first proper home-made birthday or Mother's Day card from a preschooler who has tried really hard to write her own name. This is a keeper for the memory box.
10. Not being alone. You won't wake up in the morning to an empty house. There will always be someone there for a morning hug.
11. The overwhelming sense of love when you gaze at your sleeping child. Perhaps it's sheer relief that she's finally gone off to the land of nod, or maybe it's the simple serenity on her face, but this is something you only truly appreciate when you become a mother. You just love them that little bit more when they're asleep.
12. Plenty of laughter. There's a reason a baby's laugh was voted the greatest sound of joy in Cadbury's recent campaign. It's infectious. At about four weeks old, your baby will give you her first proper smile. In that instant, the receiver has started to give back to you after all those hours of feeding, settling and nappy-changing. A few months later baby will figure out that putting her bib over her head and playing peek-a-boo at the dinner table will win her rapturous applause from a willing audience. Humour's a funny thing (excuse the pun) and this game of peek-a-boo is your baby's first attempt at stand-up comedy. Before you know it, your little comedienne will be into toilet training when there'll be nothing funnier than poos and wees. And from there it's a short leap to puns, although at the age of two or three it's more by luck than design, eg, "Mum, can I have some more mashed potato-head please?" Becoming a mother will give you more reason to laugh than you've ever had before. A giggle, a chuckle or a tears-down-your-face, side-splitting belly laugh - enjoy each and every one!  
13. Watching your husband or partner grow into his new role as a father. Sometimes the day-to-day niggles will put pressure on your relationship but don't forget to take a step back and really appreciate the effort your kids' dad is putting into your family. You'll discover a whole new level of respect and devotion for your partner when you see him cradling your newborn, or tossing screeching kids in the air at the swimming pool or simply snuggling down for a night-time story.
14. The satisfaction of knowing that your influence can help your child feel better, more confident or simply happier. If she's grazed her knee at kindy, you can help her feel better with a sticky plaster and a kiss. If she's throwing a temper tantrum, you can help her calm down. Sometimes it may feel like you take one step forward and two back as you battle a wilful toddler, but rest assured, this too is a phase that will pass. Before you know it, she'll be at school and the weekly, or even daily, tantrums will peter out. Realising that you've raised a child who you actually want to spend time with should make you proud of your efforts and dedication to parenting.
15. Christmas is one of the most special times of the year, and introducing your little one to the spirit of the season, and the wonders of Santa Claus, is pure delight. It's also a time to create your own family traditions. Your baby won't remember it, but that first photo on Santa's lap is a guaranteed "mummy moment". As she grows, she'll learn to sing "Jingle Bells", to write a letter to Santa, to trim the tree and to make her own special gifts for the rest of the family. Make the most of each December 25, while the innocence of youth lasts and your child is a true believer. Christmas time was made for children.
16. Laundry duty. It's a little joy I know, but  I remember feeling quite gleeful when, a few weeks away from my due date and deep in the nesting phase, I washed all the tiny clothes we'd carefully chosen or been given and hung them out to dry. What a pretty sight that was.
17. Choosing a name for your child is one of the most important decisions you'll ever make. I've always believed that with countless names in the world, eventually you and your partner will settle on one that you both like. But the process of getting there is good fun. You'll read all the baby name books, you'll trawl back through the family tree, you'll watch the credits roll at the end of your favourite TV programme with renewed interest.
18. Apart from the tiresome changing room drama of getting wiggling children out of their wet togs and into their dry clothes again, swimming with the kids is a hoot. Whether it's at the pool or the beach, or just in the backyard under the sprinkler, kids love to get wet.
19. Unless you're a legitimate saver of lives, no one will ever be as pleased to see you as your children. After a night at Grandma's, a day with the nanny or a brief escape to get your hair done - you'll be met with arms opened wide and a grin from ear to ear.
20. The new friends you make as you become a member of the sorority of motherhood. Whether  you meet at antenatal class, kindergarten or the playground, mothering opens you up to new possibilities. These friendships will grow as your children do.

Rochelle Gillespie is a mother of three. One of her enduring memories of becoming a mum is staring at her first baby through the bars of the cot at Birthcare just hours after birth, and feeling an overwhelming sense of gratitude for the gift her husband had given her. Altogether now…"Aaawwww".

 
AS FEATURED IN ISSUE 15 OF OHbaby! MAGAZINE. CHECK OUT OTHER ARTICLES IN THIS ISSUE BELOW