Childcare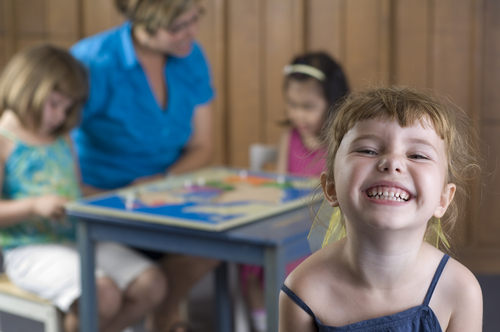 Probably the biggest concern parents have when returning to work is how to ensure their children receive the best care whilst they are at work. In New Zealand there are many options ranging from permanent centre-based care, to home-based daycare or a private nanny.
CHILDCARE CENTRES
There are a huge number of childcare centres, and the services they provide from centre to centre.
Some things to take into account when choosing a daycare centre are:
• Location - is the centre close to home or work, particularly if you intend to continue breastfeeding
• Staff to child ratio - The Ministry of Education requires a minimum of one adult to four children for under-2 year olds and a minimum of one adult to eight children for over-2 year olds.
• Staff training - how many staff have completed Early Childhood qualifications or are studying towards EC qualifications.
• Cost - Centre costs range between $4 and $7 an hour on average. Some centres offer a discount if you have more than one child enrolled, or if your child attends the centre for a set number of hours. Some families will qualify for a Child Care Subsidy (see IRD link below)
• Full or part time - some centres have a limited number of places for part time children
Most centres do have a waiting list so it is important to enrol your child/ren early to ensure that they can take your children for the days and times you require.
FAMILY DAYCARE/HOME-BASED DAYCARE
A number of organisations offer home-based daycare where a caregiver cares for your child in their own home.
• This is generally a cheaper option than centre-based care, costing around $4 per hour per child, with a discount for two or more children in care.
• You may qualify for a Childcare Subsidy (see IRD link below)
• Home-based caregivers are required to maintain the same Ministry of Education ratios as daycare centres.
• Caregivers undergo an initial training course, with ongoing training provided by teachers who visit once a month. The caregiver is responsible for ensuring that Te Whaariki (the Early Childhood Curriculum) is followed.
• Children also have the opportunity to attend a playgroup once a week with other children in home-based daycare.
There is generally no waiting list - the organisation will take your details and then match you with a caregiver in your area who suits your needs.
NANNY OR CAREGIVER IN YOUR OWN HOME
Some parents choose to have a nanny or caregiver come into their home to look after your children. There are agencies that place nannies with families, or you can advertise for a nanny and set up a private arrangement. Depending on your requirements, some nannies also do housework and cleaning. The cost of a nanny varies hugely, but you can expect to pay between $12-20 per hour on average. If you choose to go through an agency you may be charged a finding fee.
CHILDCARE SUBSIDY
The government offers a Childcare Subsidy to low and middle income families to help with childcare costs when you return to work.
If you are working or studying you may be entitled to up to 50 hours of childcare subsidy for each child under 5 that you have in care.  The subsidy is administered through Work and Income New Zealand, and is paid directly to your child's carer or childcare centre.
The childcare subsidy is paid as an hourly amount, and the amount you qualify for depends on your income. From October 2004 the maximum rate of subsidy will be $2.84 per hour, per child.
For more information about the Childcare Subsidy check out www.ird.govt.nz