Birth story: c-section during a pandemic
We found out we were expecting baby number 2 in July 2019, two days after we'd moved house. We went through a private obstetrician for a second time for peace of mind, and little did we know just how valuable he would be by the time baby's birthday rolled around.  
Bar having awful morning sickness for weeks I thankfully managed to have a pretty good pregnancy with no complications. 
Baby was due to arrive around the start of April, but due to his size versus my size it was expected he'd arrive a little early via C-section. 
They monitored me as it got closer and everything was looking good, then Covid entered the picture and changed every part of the plan we had to welcome our fourth member of the family.  
The plan was for family to look after our toddler while baby was born and then have visitors over the coming days, but by the time I was given a c section date our plan (and the rules) had changed so many times it was basically decided for us that we couldn't risk having family watch our toddler. We made the incredibly difficult choice to have my husband stay home with our toddler while I birthed alone.
I remember bursting into tears when they announced we would move to level four for several weeks – all the plans we had made to have our toddler meet his little brother, grandparents meeting their newest grandson and my husband getting to meet his second baby just vanished. It was horrible and really hard to process all of that on top of knowing I had to do this fully by myself.  
The day arrived and it was tough to say the least! Being dropped off at the hospital doors and watching my husband and toddler drive away was so difficult. We did the usual pre birth paperwork and protocol then it was a waiting game.  
I waited several hours and had really geared myself up to have baby that day, only to be told there was likely to be a delay in my surgery due to another woman in labour who would need an operating room, so I may have to go home and come back the following day. Thank goodness my obstetrician saved the day and managed to get us a different OR on a different level.  
I had forgotten just how many people are involved during a C-section and it felt 100% more overwhelming and scary the second time around. Once I was prepped and ready to go things moved quickly. The nurses and staff were amazing during the birth, they rubbed my back, calmed my fears and held my hand, and at 2:54pm on March 30th 2020 Landon Theo Broodryk was born—all 8 pounds of him.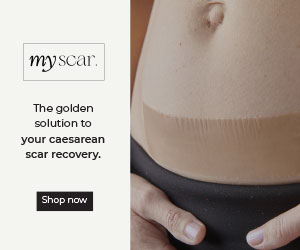 The aftercare was amazing too. I truly can't fault them at all for anything. They went above and beyond to the point I forgot there was a virus running rampant. 
I want to make special mention to our obstetrician Nick Walker who from day one of meeting him 9 months earlier – and every appointment leading up to the birth – was nothing short of amazing. His kind and gentle approach mixed with his great sense of humor made this whole pregnancy a great experience.  
One day I will share with Landon how crazy his birth story was and how he was born during a global pandemic, but for now we will just enjoy every little milestone and time together as a family of four. ❤️
Baby Landon