What does a modern day antenatal class look like?
Bump, birth and beyond — there's a lot to learn about your baby's arrival. New mum Pamela McIntosh has a look at the modern antenatal movement. 
Pregnancy and motherhood today is vastly different from yesteryear. Technology has meant that social media is now an optional platform to announce our impending or new arrival, online stores are cashing in on being our shop of choice for bulk and budget-friendly nappies, and Dr Google can often be the first port of call to decipher the hundreds of queries going through our (baby) brains daily.
But are we approaching this life-changing and hugely significant experience – our baby's spectacular arrival – to align with today's realistic outcomes? And how can we prepare for the labour and birth process with up-to-date information and an open mind?
Finding the right fit
Auckland City Hospital midwife Kerrie Anderson runs central Auckland's Antenatal & Childbirth Education business, Baby Be (babybe.co.nz). Kerrie's 'The Bump' classes were recommended to me by my own lead maternity carer, however, upon searching for antenatal education near me, I was naturally led – perhaps by mother's intuition – to contact Kerrie on my own accord. With her 'live' expertise in busy birthing suites, and with a foot in the research department door too, I knew she would provide realistic education that reflects today's variations on childbirth. That, and my optimism about not having to sit through birthing videos filmed in the '70s!
Kerrie's session structure appealed to me because, while I was hoping for my birth story to be as straightforward and natural as possible, I didn't want to be terrified, stressed, or feel like a failure if a relatively uneventful birth wasn't the outcome. And, just for the record, it wasn't.
If you choose a childbirth educator prior to your baby's arrival, it makes sense for it to be someone whose philosophy aligns with yours. "It's important to do your homework" says Kerrie, "because there is a large variation of schools of thought." 
Time to get real
It's also about having realistic expectations about what you can learn in a relatively short time (most classes run over one full weekend, or for a few hours on a specific weeknight over the course of six weeks). "You are not going to come away from antenatal classes being a qualified midwife" laughs Kerrie. "It's about accepting that, and also trusting your LMC (midwife or  specialist) to help you with the more specific queries relevant to you. It is very hard to meet every woman's expectations in just a handful of hours, but from what I have seen, the more open minded classes are more helpful than classes focussing on one extreme or the other. Statistically, today's births are really varied, so the education needs to reflect that." Kerrie urges her class attendees to remember that, yes, it's important to picture your ideal situation and how you will deal with that, but it is good to be open to other options as well, in case things are not going to plan.
Is it really necessary?
For expectant mums who are electing to have Caesarean sections, or who have already booked an epidural, they may see antenatal classes as unnecessary. But a class with a modern approach is still relevant. For Kerrie it's not just about the natural advice on childbirth, it's also about realistic education for today's society. "Childbirth educators and midwives can often be focussed on natural child births – that's our 'normal'", she explains. "But when things don't go to plan, we call in doctors to assist. My theory is to empower women for natural childbirth, but also to educate them on assisted childbirth and what to expect in those first special moments with baby."
"I try to not be too prescriptive about how to cope with pain, because nobody knows how they will cope in a new situation like labour and childbirth until it happens", she admits. "But working at the hospital almost daily does mean that my opinions are current and reflect what is happening for many of today's new mums."
Education is all about being as prepared as possible, and Kerrie – like all midwives – is passionate about empowering women to believe in themselves and to trust their body, whatever process you choose for your child's birth. "It's a privilege to work with people during such a special time in their lives" admits Kerrie. "But at the end of the day, it's your body, it's your baby and it's your call. Remind yourself that whatever the process, you'll do just fine!"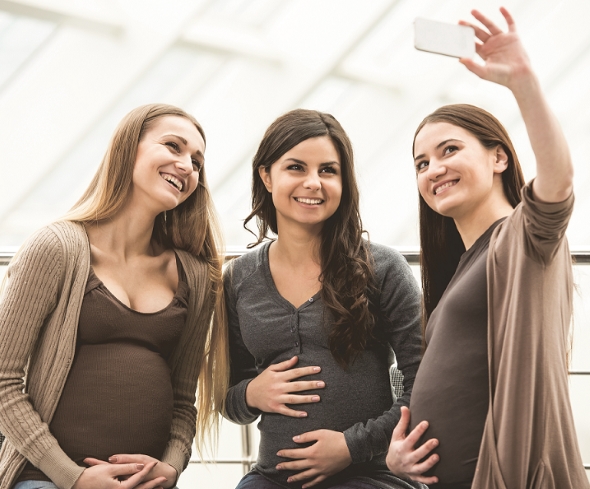 Getting together
Antenatal classes are just as much about social support networks as education, with many women (and even the blokes) getting together on a regular basis post-birth. Many continue their network through their first baby's successive siblings, and even into the school years and beyond. "I think it's fifty per cent about gaining knowledge about what to expect from childbirth and from the first few weeks in your new life as a parent, and fifty percent the support group" explains Kerrie.
"People don't understand how important their support group is until they've got their newborn baby in their arms. At a time when you don't want to necessarily call a midwife or your doctor but you want some support, it's valuable to have a group of women going through the same things as you are" reiterates Kerrie. This theory rings especially true in larger cities where many people have moved away from their family or close friends to follow their careers.   
Pamela McIntosh is a freelance writer living in Auckland with her husband and baby daughter.