Eggplant "Meatballs" (Polpettine di Melanzana)
The Milanese poet Giovanni Raiberti called Milan 'the capital of meatballs'. Anything left over from a previous meal can go into a polpetta or polpettina. It's a good way to avoid wasting food.
INGREDIENTS
500g (1lb, 2oz) eggplant (aubergine), cut into 3–4 cm cubes
100g (3oz) moist breadcrumbs from day-old bread
1/2 cup (80g/2oz) pine nuts
30g (1oz) Grana Padano, grated
2 garlic cloves, minced
2 small red chillies, minced
2 eggs, whisked
3 tbs finely chopped parsley
extra virgin olive oil
2/3 cup (80g/2oz) fine dry breadcrumbs
tomato passata
METHOD
Bring two litres (70 fl oz) water and 1 tablespoon salt to the boil in a large saucepan. Add the eggplant and boil for about 10 minutes, uncovered, until soft, pushing it under the water repeatedly with a wooden spoon as it cooks. Drain, cool and press with a spoon to remove any excess liquid. Chop and put in a bowl with the moist breadcrumbs, pine nuts, Grana Padano, garlic, chillies, eggs and parsley. Blend gently using a fork. Season. Heat a little olive oil in a frying pan until hot and fry a tablespoon of the mixture to check for seasoning. Roll the mixture into 2.5cm balls and put on a tray. If the mixture is too wet to roll easily, add more fresh breadcrumbs. Roll each ball in the dry breadcrumbs to coat evenly. Pour oil into a wide frying pan to a depth of 1cm  Turn the heat to medium and when the oil begins to shimmer put a ball in. If it begins to sizzle immediately, the oil is ready. Fry the balls until browned all over. Drain on paper towels. Cool for 10 minutes, then serve with tomato passata.
MAKES about 40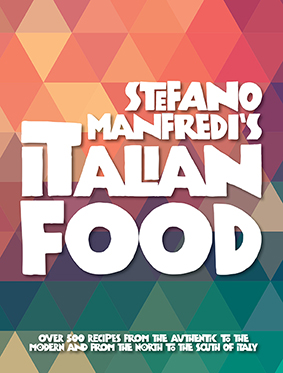 Extract from Stefano Manfredi's
Italian Food: Over 500 Recipes from The Traditional to the Modern and From the North to the South of Italy. RRP$75. Published by Fairfax Books/Allen & Unwin.
For more recipes from this book see:
ROCKET & RICOTTA LASAGNETTE