Lamb Casserole for each age and stage
Ingredients 
•  500g lean diced Quality Mark lamb
•  1 tsp oil 
•  1½ cups reduced-salt beef or vegetable stock or ½ tsp reduced-salt stock powder to 1½ cups water 
•  1 small potato, peeled and diced 
•  ½ cup cauliflower, diced 
•  ¼ cup frozen peas 
Method 
1.  Heat the oil in a large frying pan and brown the lamb. Add the stock, cover and simmer for 30 minutes. Simmer gently to ensure the meat remains tender. 
2.  Add the potato and cook a further 30 minutes before adding the cauliflower. Cook until the vegetables are tender. 
3.  Add the peas and heat through. Total cooking time is approximately 1½ hours. 
4.  Serve with rice.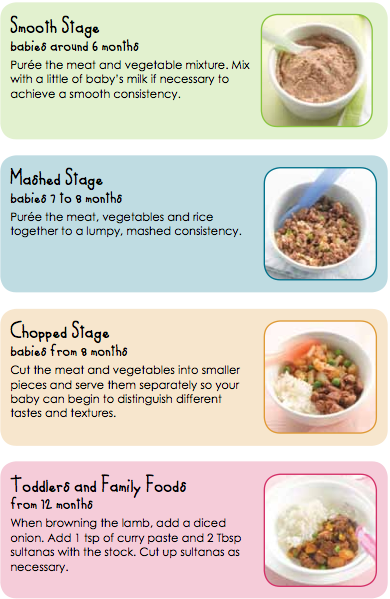 Recipe from NZ Beef and Lamb.