Meaty Hot Pot for each age and stage
Ingredients
• 500g lean diced Quality Mark  beef or lamb casserole meat  such as beef chuck, blade  steak or boneless lamb  
• 420g can baked beans  
• ½ small swede or kumara,  peeled and cubed  
• 2 carrots, peeled and  chopped  
• 1 onion, peeled and  chopped *
• 2 Tbsp tomato purée *
• 1¼ cups water  
• 2 large potatoes, peeled and  thinly sliced  
• 1 tsp oil
 Method
1. Pre-heat the oven to 180 O C.
2. In a large casserole dish, mix  together the meat, beans,  swede or kumara, carrots,  onion * and tomato purée * .  
3. Stir the water into the casserole  mix.  
4. Cover and cook at 180 O C for  ½ hour.  
5. Remove the casserole from  the oven and top with sliced  potatoes, brushed with oil.  
6. Return to the oven, uncovered  for 1 hour. Serve with seasonal  vegetables.
* Leave these ingredients out for babies  around 6 -8 months - see Smooth and  Mashed Stages below.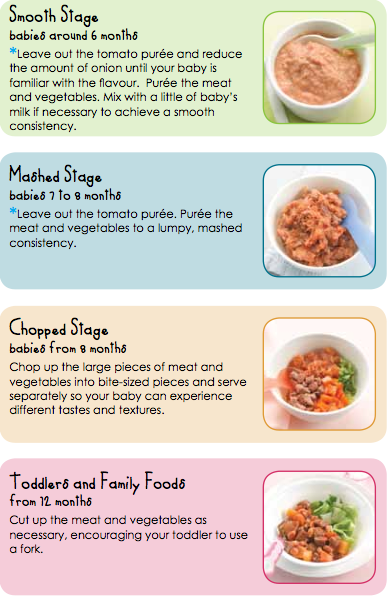 Recipe from NZ Beef and Lamb brochure here.