Rocket and Ricotta Lasagnette
A lasagnette (pronounced lah-sah-NYET-ah) is a small lasagna that is usually individually made and free form rather than baked in a large dish. The plural is lasagnette. It's important to use large, spicy rocket (arugula) leaves in this dish rather than small-leafed "wild" rocket, which has little flavour.
 INGREDIENTS
600 g (1 lb 5 oz) broad-leafed rocket
1/4 cup (60 ml/2 fl oz) extra virgin olive oil
2 French shallots, finely diced
2 garlic cloves, minced
250g (9 oz) ricotta cheese
8 tbs grated parmesan cheese
12 tbs tomato passata or sugo
24 x 7-8cm square pasta sheets, cooked
4 best-quality tinned tomatoes, halved
 METHOD
Preheat the oven to 200°C (400°F). Roughly chop the rocket, stalks and all, into 3–4cm pieces. Heat two tablespoons of the olive oil in a wide frying pan and gently fry the shallots and garlic for a minute, stirring, until transparent.
Add the rocket, turn up the heat and cook for three to five minutes until tender. Season, stir and remove from the heat. Drain the rocket in a sieve, then divide into three piles.
Combine the ricotta and 6 tablespoons of the parmesan in a bowl and season lightly. Divide into thirds.
In a baking dish, smear two tablespoons of the tomato passata in six separate positions to make bases for the lasagnette. Add a pasta sheet to each base, then use one-third of the ricotta mixture among the six lasagnette and then one-third of the rocket. Repeat twice until all the ricotta mixture and rocket have been used, then finish with a pasta sheet on top. Carefully remove and discard the seeds and pulp from the tomato halves, then cut each half lengthways into three. Top each lasagnetta with four tomato slices. Scatter the remaining parmesan on top and drizzle with the remaining olive oil. Bake for 15 minutes and serve hot.
SERVES 6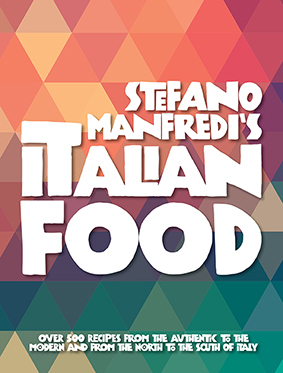 Extract from Stefano Manfredi's
Italian Food: Over 500 Recipes from The Traditional to the Modern and From the North to the South of Italy. RRP$75. Published by Fairfax Books/Allen & Unwin.
For more recipes from this book click below:
/recipes/savoury-recipes/cauliflower,-basil-and-olive-salad