Shepherd's Pie for each age and stage
Ingredients
• 500g lean Quality Mark beef or  lamb mince
• 1 Tbsp oil
• 420g jar pasta sauce*
• 1 stalk celery, finely chopped
• 6 button mushrooms, sliced
• 1 carrot, peeled and finely chopped
• 1 courgette and/or other seasonal green vegetables, finely chopped
• 4 medium potatoes, peeled and quartered
Method
1. Pre-heat oven to 180° C.
2. Brown mince in the oil in a hot pan, breaking the mince up into small pieces with the back of a spoon. This is best done in two batches.
3. Stir in pasta sauce* and vegetables except the potatoes.
4. Cover and simmer gently for 15 minutes.
5. Boil the potatoes in unsalted water until tender. Drain and mash.
6. Spoon mixture into a pie dish and top with mashed potato.
7. Bake at 180 O C for 15 minutes or until top is golden.
8. Serve with steamed green vegetables.
*Leave this ingredient out for babies around 6 months - see Smooth Stage below.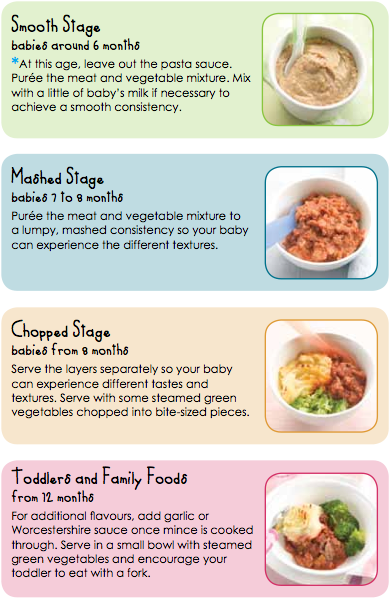 Recipe from NZ Beef and Lamb.