Apple pie smoothie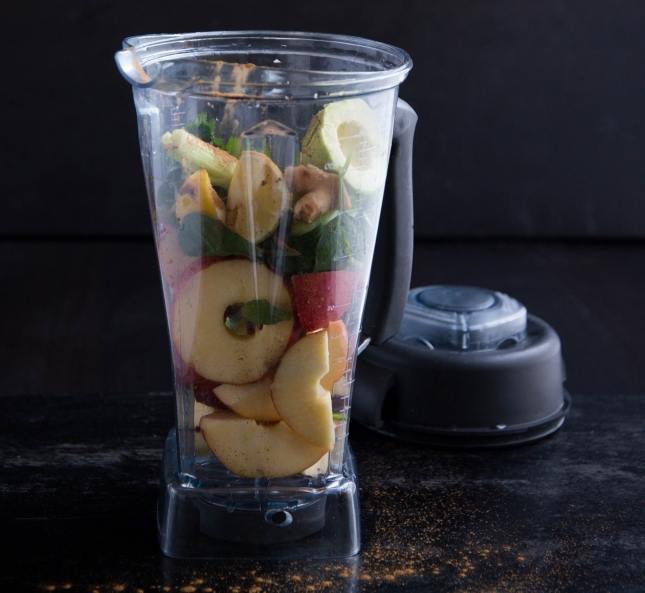 by Nemi Nekvapil
"When you add this amount of life and nutrition to your body in the morning, you are set for the day. Not only are smoothies so quick and smooth in a Vitamix, they are extremely addictive. You will be amazed how quickly your body cries for more!" - Kemi Nekvapil.
Serves 2-3
Ingredients

2-3 cups of Cold Water
½ Lemon (with zest and peel)
1 cup of Spinach
½ cup of flat leaf Parsley
1 stick of Celery
½ Avocado
2 Apples, quartered
1 small knob of Ginger
¼ teaspoon Cinnamon Powder
¼ teaspoon Nutmeg
½ - 1 cup Ice Cubes
Method
Put the ingredients into the Vitamix Wet Blade Container in the order listed.
Secure lid and select Variable Speed 1.
Turn on the machine and quickly increase speed to Variable Speed 10, then to High. 
Using the tamper if necessary, blend for one minute or until smooth.
 


Tip
"Want some cream with your apple pie?  Try adding one tablespoon of coconut yoghurt to get an even creamier texture. This smoothie has great fatty acids in the avocado for healthy skin and heart health and to keep you full for longer, ginger to increase circulation and reduce digestive problems and cinnamon the help keep your blood sugar stable to help reduce sugar cravings." - Janella Purcell.
Source: http://www.vitamix.com.au/browse-recipes/all/apple-pie-smoothie-by-nemi-nekvapil