Fast and Fabulous Green Delight smoothie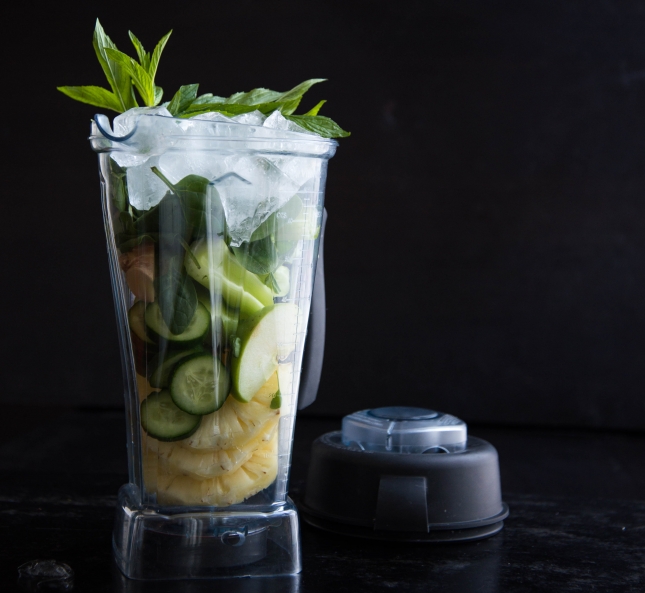 "Green smoothies can be a challenge when it comes to the kids. So i started from the other end of the problem - whats a drink that kids really love? This is the result! I use loads of delicious pineapple, apple and the gentle heat of ginger. With the mildness of celery and cucumbers (which balances the ginger) and a generous amount of mint the flavour is just perfect. Add some spinach leaves and the effect is complete. Healthy, simple, delicious! Viva la Fast and Fabulous Green Delight!" - Ed Halamagyi.
Serves 2-4
Ingredients

2 cups Pineapple (400g)
1 Lebanese Cucumber (160g)
1 whole Green Apple – quartered (185g)
3 sticks of Celery (150g)
Juice of 1 Lime
1½ cups Baby Spinach Leaves
4cm piece Ginger
¼ bunch Mint Leaves
2 cups Ice Cubes
Lime Wedges and Mint Sprigs, to serve
Method
Put the ingredients into the Vitamix Wet Blade Container in the order listed.
Secure lid and select Variable Speed 1.
Turn on the machine and quickly increase speed to Variable Speed 10, then to High. 
Using the tamper if necessary, blend for one minute or until smooth.
Serve with lime wedges and mint sprigs. 
Tips 
"This smoothie is very cooling on your liver so perfect for detoxing and helping with digestive and skin problems. The pineapple contains an anti-inflammatory agent called bromelaine that is wonderful for increasing alkalinity." - Janella Purcell.
Source: http://www.vitamix.com.au/browse-recipes/all/fast-and-fabulous-green-delight-by-fast-ed-halamagyi#