Sunshine Breakfast Smoothie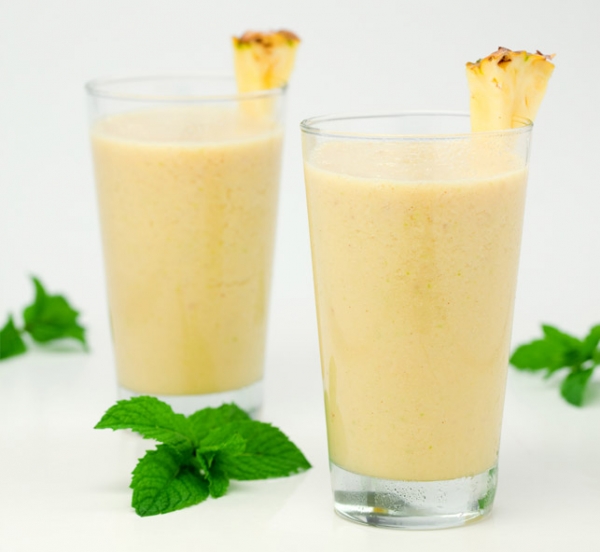 This smoothie has everything you need to start the day. Fresh whole fruit, fibre, omega 3 and protein to keep you full, as well as probiotics for proper digestion and for a healthy immune system. It's a complete healthy breakfast in about 2 minutes. The great thing about enjoying a daily fresh smoothie is that all the nutrients are easily absorbed into the body for optimum health and maximum nutrition.
Serves 2
Why it's good for you...
The orange is a great source of vitamin C and flavonoids to help protect your immune system. The apple is high in fibre to help keep you full and for gut health. Pineapple is high in bromelain to help with digestion and assimilation of the nutrients you are eating. Banana contains chromium and potassium to help stabilize blood sugar and for energy. Linseed is full of omega 3 which help lower cholesterol and for brain health. And yoghurt adds extra protein and probiotics for a healthy immune system and to repair muscle.
Ingredients
2 Oranges, peeled
100 g fresh Pineapple
1 Green Apple, cut into quarters (use skin, seeds and stem in recipe)
1 Banana, peeled 
1 tbsp ground Linseed (flaxseed)
1 tsp Honey (optional)
3 tbsp Natural Yoghurt
Pinch of Cinnamon
1 cup Ice
Method
Place all the ingredients into a Vitamix Wet Jug Container in the order listed.
Secure lid and select Variable Speed 1.
Turn on the machine and quickly increase speed to Variable Speed 10, then to high. Use the tamper in the beginning to push the fruit down into the blades. Blend for 30 seconds until combined and creamy.
Pour into glasses and enjoy.
Tip
 For a dairy free smoothie replace yoghurt with silken tofu and light coconut milk.
Source: http://www.vitamix.com.au/browse-recipes/all/sunshine-breakfast-smoothie