Fluffy zucchini fritters
These can be made with any combination  of vegetables, including sweetcorn, diced red capsicum, grated carrot, pumpkin and wilted spinach.
Ingredients
3 cups zucchini, grated  (3-4 whole zucchini)
2 tbs parsley, chopped (optional)
2 eggs, lightly beaten
Salt and pepper
1 cup cheese, grated
1/3 to 1/2 cup flour
1 tsp baking powder
Oil or ghee (clarified butter) for frying

How to make:
Drain the grated zucchini in a sieve, squeezing out as much liquid as possible. Combine with the remaining ingredients in a mixing bowl. Set aside for 10 minutes to allow the starch in the flour to absorb the liquid. The mixture should be thick enough to hold its shape when dropped in the pan. You may need to add extra four to thicken the mixture - add one tablespoon at a time until the right consistency is reached.

Heat a heavy-based frying pan over a moderate heat. When hot, add a little oil or ghee, swirling it around the pan until the base is evenly coated.

Drop spoonfuls of the batter into the pan - the size of the fritters can vary - make small ones for children to eat with their fingers, and larger ones for adults.

Cook until bubbles appear on the surface of the fritters and the edges start to brown, then flip over and cook for a further 2-3 minutes until golden brown.

Remove to a plate and keep warm in the oven or cover with foil. Repeat with the remaining mixture, adding a little oil or ghee to the pan between batches.

Serve with Zesty Yoghurt Sauce: Mix 1 cup of plain yoghurt with 1 tsp wholegrain mustard, 1 tsp finely chopped lemon zest and 1-2 cloves chopped garlic. Season with salt and pepper.
Variation: For a fluffier fritter, separate the eggs and whisk the egg whites until stiff. Combine the egg yolks with the fritter ingredients as above, then gently fold through the egg whites before cooking.
---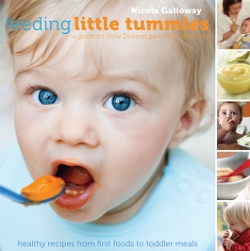 Feeding Little Tummies: A Guide for New Zealand Parents & Caregivers by Nicola Galloway, RRP$39.99, is published by Craig Potton Publishing and available from bookstores nationwide or online from: www.craigpotton.co.nz .