Spring onion and sweetcorn mini frittatas
This is  like a sweetcorn fritter, without the job of frying them all.
 Makes 24 bite-sized frittatas
Ingredients:
3 spring onions, finely sliced
2 cups sweetcorn kernels
¼ cup self-raising flour
3 eggs, beaten
2 tbs cream
salt and freshly ground black pepper
Preheat the oven to 200°C. Spray a 24-cup mini-muffin tray with non-stick baking spray.
Mix all the ingredients together. Spoon into the prepared muffin tray and bake for 10–12 minutes until puffed and cooked through. Serve warm.
Notes:  A silicon mini-muffin tray with a metal frame to support it works best for these frittatas. Spray generously with non-stick baking spray.  You can use fresh, frozen or canned sweetcorn kernels in this recipe.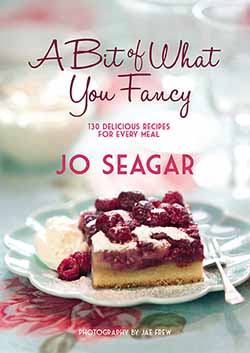 This recipe is an extract from
A Bit of What You Fancy by Jo Seagar. Photography by Jae Frew.
It is published by Random House NZ,
RRP$55.
/recipes/savoury-recipes/paprika-parmesan-crackers/