Paprika Parmesan Crackers
These are great on their own as a little snack with drinks, as well as a perfect base for spreads, cheese or pate.
Makes about 60 crackers
Ingredients:
1 cup flour
½ teaspoon salt
2 tbs self-raising flour
1 tsp curry powder
125g butter, cold and cut into small dice
½ cup finely grated parmesan
1 cup grated tasty cheese
1 tbs lemon juice
For the topping:
½ cup shaved parmesan
garlic salt, to sprinkle
1 tsp smoked paprika
Place all the cracker ingredients in a food processor and process until the mixture clumps together in a ball around the blade.
With floured hands, roll into two sausage shapes. Wrap in plastic wrap and chill for 30 minutes. These can be frozen for up to a month.
Preheat the oven to 200°C. Line two baking trays with non-stick baking paper.
Slice the chilled logs into 3mm thick slices. These should be cut as thin as you can. Lay on the prepared trays with a small gap in between to allow for spreading.
Mix the topping ingredients together in a small bowl. Sprinkle a little on each biscuit. Bake for 12–15 minutes until golden brown. Cool on a wire rack and store in an airtight container for up to one week.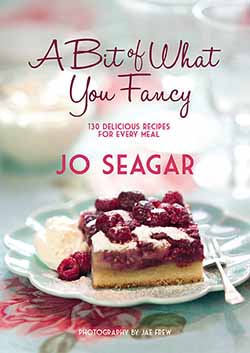 This recipe is an extract from A Bit of What You Fancy by Jo Seagar. Photography by Jae Frew. It is published by Random House NZ, RRP$55.
/recipes/savoury-recipes/spring-onion-and-sweetcorn-baby-frittatas/