When your baby needs grommets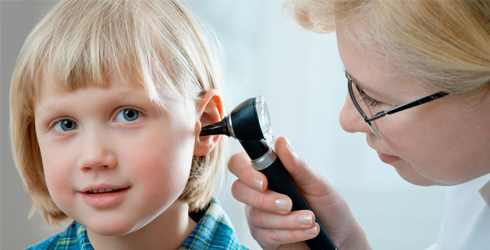 At my daughter's 15-month Well Child check, the Plunket nurse's hand hovered uncertainly over the "Ears-hearing" tickbox. "What words does she say?" she asked me, her eyes flickering to where my daughter sat happily - and silently - playing on the floor at my feet.
"Well, sometimes she says 'ba-ba' for bottle," I replied. "But that's it."
"Hmm," the nurse said. "I'd be a bit concerned about that, if I were you."
The truth was, I had been concerned about my daughter's speech - or lack of it - since I didn't think she could actually hear me all that well. When she was eight months old, she got her first cold, and along with it, a nasty ear infection that left runny yellow pus on her cot's sheets after naptime.
Over the course of seven months, my daughter had five colds, all followed by ear infections. Each time, we dutifully went to the doctor, who looked in her ears and pronounced that yes, she did have an ear infection, then prescribed antibiotics, ear drops, and a follow-up appointment in a week.
When she was 11 months old, I decided to forego the antibiotics and treat her latest ear infection with homeopathy and aromatherapy. Her cold seemed to be shorter in duration this time, but recurred after only a week - and this time, when we slunk into the GP's office for advice, the swab test of the discharge coming from her ear found some of the nasty bugs that cause pneumonia.
Our next step was to see the ear specialist, who changed my daughter's eardrops and said that her right ear, which was always worse than the left in terms of infections, wasn't healing well. The new eardrops - which weren't government-subsidised and cost $35 for a tiny bottle - seemed to help, and my daughter even managed to go for two whole months without getting a single cold. But what we didn't realise was that her right ear still wasn't healing, and since she'd appeared well otherwise, I hadn't bothered to take her to the GP for another checkup.
After the Plunket nurse's comments at 15 months, we went straight back to the GP and asked for another referral to the ear specialist. The GP agreed, then said that meantime, we might consider getting her the pneumococcal immunisation, which had been shown to help cold-prone kids like mine not to get so many infections. We agreed - at $300 for the two necessary jabs. I was gutted to find out that in 2008, the pneumococcal immunisation is being added to the vaccine schedule for children and will be free - but we couldn't afford to wait that long.
When my daughter was 17 months old, we took her to see a private ear specialist. After taking a look inside her ears, the specialist pronounced her hearing to be severely compromised in her right ear, and said that her left ear was also inflamed. This, he said, could be the reason that, at 17 months, she still didn't know her own name, didn't come when I called to her, and only said two words. Our options? We could either let her ears go and see if they came right, or she could get grommets.
Grommets. I didn't even know what that word meant. It turns out that grommets are tiny, tiny tubes that help to ventilate the middle ear. They look like miniature cotton reels, except they're so small, you have to pick them up with tweezers.
My daughter's problem was that with recurrent colds and subsequent ear infections, fluid had built up in her middle ear and hadn't drained out. The more ear infections she had, the more fluid built up in there, and over time it became thick and gooey, like glue - hence the term "glue ear", for which the proper medical term is "otitis media with effusion".
My daughter's Eustacian tube, which connects the middle ear to the back of the nose, should allow air to circulate through the middle ear, and should also allow mucous to drain from the middle ear into the back of the throat. Gross, I know - but this is how it's supposed to work.
However, in young children, the Eustacian tube is smaller, flatter and shorter than in older children and adults. This makes it easier for bugs (bacteria and viruses) to travel into the tube - like from a cold - which, in my daughter's case, resulted in swelling of the lining of the tube and an increase in mucous production. Because of the shape of her underdeveloped Eustacian tubes, the mucous caused the tubes to be blocked and her hearing to be compromised.
As the specialist explained to us, what my daughter was hearing sounded like hearing through water - like when you're underwater in the swimming pool as a kid, trying to talk to your friends. She was hearing vague sounds, but not enunciated words.
After learning more about my daughter's problem, we decided to go ahead with the grommet surgery. It was scheduled for the week before her 18-month birthday - only three weeks after that initial appointment, because we chose to have the surgery done privately, at a cost of around $1800 (plus $165 for the consultation with the private specialist). Expensive? You bet. But if it would improve our daughter's hearing, we weren't going to argue. Especially when we found out that the public waiting list for grommet surgery can take a year or more.
We took her to the hospital first thing in the morning on a Monday. The specialist had already explained to us that he operated on the youngest children first, and would be performing 10 or more grommet insertions that same day. The surgery, he said, would only take a few minutes, but our daughter would need to be put to sleep under general anaesthetic. That scared me. I couldn't imagine someone so small laying on an operating table, surrounded by high-tech equipment and getting surgery. The image was incredibly frightening, and I was most scared about the anaesthetic - what if they got the dose wrong and gave her too much? What if she didn't wake up?
Once we arrived at hospital and checked in, we were taken into an office where a nurse explained what was going to happen and double-checked all of the information we'd already given them about our daughter's health and condition. Then she handed me a huge dose of paracetamol to give to her - apparently to help her relax and help with the pain, if any, that she'd feel upon waking up. Luckily, my child loves the taste of paracetamol, so it went down without fuss.
After that, we went into another waiting room with all of the other children who were waiting to have surgery. There were toys, and games, and comfortable sofas, and even newspapers for the nervous parents to read (as if we could concentrate on reading!). All of the little ones were wearing pyjamas and were totally chilled out - it was the parents who were actintg edgy and anxious.
We didn't have time to even get stuck into a puzzle before we were called to go into yet another waiting room - this time, a small one that was located directly off the operating room. The specialist came in and greeted us, explaining what was going to happen and how long it would take, and asking us to sign the last of the consent forms. He was very confident and positive, and tried to make us feel at ease.
After he left, the anaesthetist came in to talk to us. I had already written down the questions I wanted to ask, such as whether they intubated as a part of the anaesthetic process. He explained that the anaesthetic was mild and was just enough to knock our daughter out for the brief surgery. There were no needles - just a mask she'd breathe through, and he would monitor it the whole time, along with an assistant.
We'd given them our daughter's weight and height, which the nurse double-checked, so that he could calculate the exact dosage of anaesthetic. The side effects were minimal - some children experienced vomiting later on, after they ate something following the surgery. He, too, was confident and positive, and took us seriously.
Then came the moment of truth - taking our little girl into the operating room for the surgery. Only one parent was permitted to be with her as they administered the anaesthetic, and I admit it, I was a chicken. So DH had to go. He put on a blue gown, picked her up, and went through the swinging doors.
I heard her scream - DH said it happened when he laid her down on the table, and strange people in masks looked down on her - but the anaesthetic mask was put over her mouth almost immediately and she was out like a light.
Another nurse came to take us to the recovery room, where we'd wait until our daughter's surgery was over and they brought her out to us. It was a pleasant space, with a few beds and a whole bunch of comfortable easy chairs arranged in a circle. There were biscuits and tea, which DH happily dove into, and another nurse to answer questions and explain the after-effects of the surgery and what we could expect.
The staff were all friendly, sympathetic, and kind, offering to make us cups of tea and assuaging my nerves. They suggested I get a bottle ready for our daughter, as she'd not been permitted to eat or drink anything since midnight the previous night.
Just as I'd settled myself into one of the chairs, with a bottle at the ready for when she was brought out of surgery, the specialist wandered in. "Oh, he must be getting ready to do Em's surgery now," I remember thinking - until he came over to us and smiled, saying that the surgery was a success, the grommets were in and she would be brought out soon. No more than ten minutes had elapsed since DH had taken her into the operating room.
Just a second later, a very groggy baby was brought in and handed to me. She looked completely normal, except for the cotton balls sticking out of each of her ears, and the grumpy, confused expression on her face. She cuddled me for a moment, then sat up and pulled the cotton balls out of her ears. I tried to give her the bottle, but she wasn't interested, preferring one of DH's biscuits instead.
The specialist came to check on her, telling us that he'd removed a significant amount of fluid from both ears before inserting the grommets. There had been no complications to the surgery, and he expected that the grommets would work as they were supposed to. He gave us a prescription for ear drops that would need to be given to her three times a day for three days, then sent us home - less than two hours after we'd first arrived and been checked in.
Luckily, our daughter didn't seem to have any ill effects from the anaesthetic - she ate and drank normally for the rest of the day, and played in her pyjamas like usual. I gave her paracetamol for the first day, just in case - but she didn't seem to need it, as she was happy and playful, only poking at her ear once or twice, as if to say, "There's something different here…"
DH noticed almost immediately that our daughter was listening to him when he spoke. We'd say her name and her head would whip round, where before, we'd have to get right in front of her so she could see our lips moving in order to get her attention. She was also really interested in her noisy toys, like her drums and musical instruments, and interacted with them very differently than before. I could whisper her name from the next room and she'd come to find me, smiling. My baby could hear!
Over the next few weeks, our daughter's speech improved dramatically. She started saying "Mama", "Dada", "Papa" (puppy), "Ta" and doing heaps of babbling that imitates speech, with changes in tone and cadence. She "read" books, turning the pages and babbling as she looked at the photos. She started learning to point to her body parts, to objects, and to people, and she started to understand and follow simple commands, like "Sit down", "Bring the book" and "Give me a kiss!"
When we went to the two-week follow-up appointment with the specialist, he looked in her ears and said the grommets are working just as they should be. We should expect them to fall out around the time of her third birthday, and the GP would need to check them occasionally to make sure they were still inserted properly and working, but problems were likely to be minimal. He then wished us well, telling us that if we had any problems, we should not hesitate to come back to see him.
As we left the office, our daughter smiled up at him, then lifted her arm and waved her hand, saying, "Bye bye!" I almost cried - she'd never said it before the surgery.
Was the grommet surgery the right decision for us? Only time will tell, but at the moment, my answer is a resounding yes. My child can hear me, her ears are cleared of the fluid that had been causing so many problems, and her speech has taken off. She now points at birds and claps her hands when they twitter, talks to our dog as she pets him, and says "Mama!" a million times a day, usually in a demanding tone of voice. She's a totally different little person, and I have grommets to thank for changing her life - and mine.