Essential Summer Holiday Bucket List
While the 'Bucket list' is tradtionally reserved for all the things one wants to do before they 'kick-the-bucket' the idea of a Summer Holiday 'Bucket list' is around the things you and the kids want to do before the season of summer 'kicks-the-bucket' so to speak.
This is a fun thing to do as a family. Gather them all around the table, and write down ideas you'd like to do as a family during the summer holidays. Pick wet weather activities and dry weather activities so you've got plenty of options not matter the weather.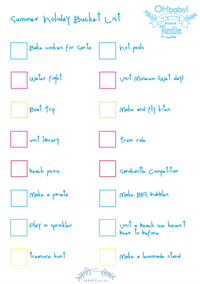 During the holidays plan a day or so in advance the things you have on your list and tick them off as you go.  If you and hubby have taken time off work to be with the kids, you could set the expectation that you do at least 3 things on the bucket list each week allowing time for mummy and daddy to have a day to get things done around the house and have friends over and a rest. You might like to create another list of things that the kids can do - or a kids day bucket list so they have activities they can get on with (age dependant of course) while you get to read a book or get some of that much needed gardening done!
We've created a starter bucket list printable for ideas and inspiration - download the pdf and we've created a blank page also for your little family to fill in the blanks!
Happy Holiday!