Two's company: job sharing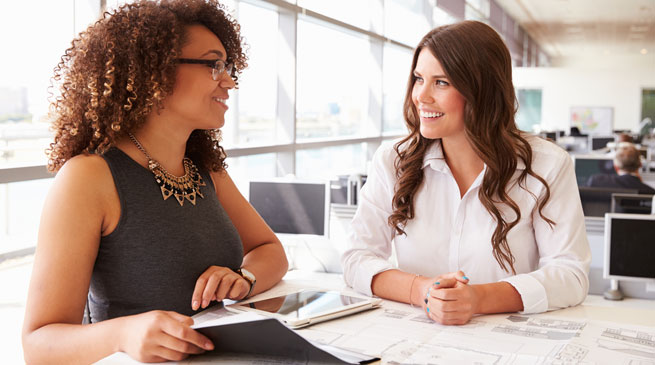 "Flexible work" has become a real buzz term over the last few years as more employers see the benefits of offering flexible roles and hours to their employees. We take a look at one flexible solution - job sharing.
Read more articles about going back to work when you have kids
Mother-of-two and former professional golfer, Kate McCLeery, set up www.jobsharing.co.nz after a trip to England where the concept of two people sharing one role within a company has really taken off. Flexible work only became something all New Zealand employees could actually request, in March 2015. Kate, a former product development manager at Genesis Energy in New Zealand, and a general manager at Centrica in the UK, explains what sparked the idea for her website, and how Kiwi workers and employers are embracing the idea.
"Before getting pregnant, I'd studied, travelled, and focused on my career. Then, suddenly, I was married, to a Scotsman who I'd convinced to come back home with me to New Zealand. When I had my first baby, my blossoming career was at a crossroads. I didn't want to go back to work full-time and miss out on the magical first few years of my son's life. Yet I longed for the mental stimulation and cut and thrust of working life, I wanted to continue progressing my career.
Part-time work seemed like a great solution – until the reality of it hit me. My workplace was fantastic, but they, quite reasonably, wanted me to work more hours than I wanted to work. Before I could decide what to do, I found out that I was pregnant again. I left the paid workforce and became "just a mum". When my second child started kindergarten I began investigating other flexible roles, but promptly concluded that I was likely to have to take a more junior role, and with it a reduced hourly rate.
On a family holiday in Scotland, I met a few friends who were all mums. They were all working, and most were job sharing. One held a national role that involved commuting between Edinburgh and London - she was sharing with a colleague in Birmingham and absolutely loved it. I was inspired - if my friends could do it, why not me?
When I started investigating the situation here in New Zealand, I couldn't help but get excited. Job sharing ticked a lot of the boxes I needed ticked:
Organisations are open to hiring job sharers
Almost all roles can be shared
I could hold a senior role that was full of interesting challenges
The potential for being promoted is absolutely there
I would be remunerated at the same level as a full-time role
I would get to hang out with my kids for the majority of the week
The challenge was trying to find my perfect job share partner. My criteria was fairly reasonable: we had to be able to share, to have complementary skills, communicate well, be committed to the job, trust one another and be open to job sharing at the same time as one another. I thought it might be tricky, but entirely possible. However, because I'd just returned from England, my network was small and most people I knew who were interested were still in the midst of kiddie wrangling and weren't ready yet. So the search for the perfect job share partner was very challenging!
I did all the traditional things. I networked, I spoke with recruiters, I even considered placing an ad on SEEK! I thought it was strange that I couldn't find a simple online solution to finding my perfect job sharing partner. I started chatting to friends, family and colleagues, and soon I found that many of them were in the same position. So I set up jobsharing.co.nz to help people take the first step on the job sharing journey, to connect with others who also want to job share.
I found there were a lot of New Zealanders who want a better work-life balance, and more flexible work options. Research from the UK, USA and Australia suggests that it appeals to parents (mostly mums), people nearing retirement, people who are busy in another aspect of their lives (students, sportspeople, volunteers), and people who are caring for family or friends.
I launched jobsharing.co.nz just before Christmas 2015, and so far feedback has been fantastic. Not only have people signed up, but I've been contacted by job sharers who are keen to share their success stories - from job sharing sports managers through to senior vice presidents. The website also includes a selection of useful job sharing toolkits. I've made it a "pay what you want" site – you can pay as little or as much as you feel is fair. It's about creating opportunities for people to apply for full-time roles that may otherwise be unavailable."
Kate's tips for finding a job share partner
Trust your instincts
Check up on the person (use LinkedIn)
Meet them in person - the chemistry has to be there, as does the desire to make it work.